---
Re-electing the politicians who have fallen out of the seat of power will justify all past actions taken by such politicians, which would become relevant for Sri Lanka in the future, the head of a leading Indian media conglomerate said recently in Sri Lanka.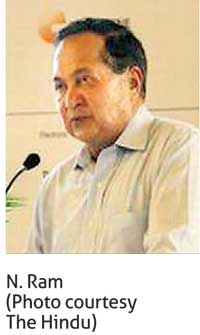 "When a politician, who was out in the cold, returns to power, he will say 'Who are you to question the past? The people have given me a mandate'. I think this applies to Sri Lanka and we have to face this in the future," The Hindu Group Chairman and Publisher N. Ram said at the Galle Literary Festival, which concluded last weekend.
Parliamentarian and Former President Mahinda Rajapaksa last week was quoted as saying that 2017 might present an opportunity for a change in government.
He had said that there is no development under the current government. However, Rajapaksa's presidency was marred with wide-scale allegations of human rights abuses, corruption, nepotism and repression of the media.
During his presidency, Ram had said that Rajapaksa's government was the strongest government to have existed in Sri Lanka.
Ram, who was speaking on the topic of media freedom, said that politicians could use the presence of a mandate to justify any number of activities including corruption and pressure the media to not dig deep into such matters, which he said former Tamil Nadu Chief Minister Jayalalithaa Jayaram too had done. The media mogul said that last week he interviewed Opposition Leader R. Sampanthan, who also concurred with his views that the media is much freer under the leadership of Prime Minister Ranil Wickremesinghe.
"(But) free speech deficits remain," he admitted, after a member of the audience questioned Ram on how Wickremesinghe has repeatedly attacked the Daily Mirror and its Editor in public forums.
Ironically, Wickremesinghe too is a politician, who has been out in the cold multiple times before his recent return to power. (CW)