---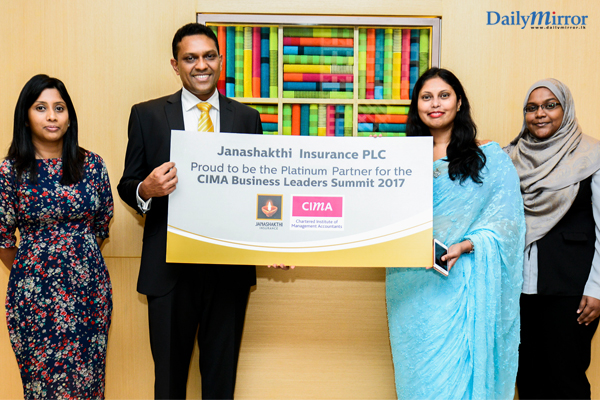 Jude Fernando, Chief Executive Officer, Janashakthi General Insurance Limited handing over the sponsorship to Manohari Abeyesekera, Chairperson – CIMA Business Leaders Summit 2017 Organizing Committee
(From left - Manindri Bandaranayake, Head of Marketing, Janashakthi Insurance PLC; Jude Fernando; Manohari Abeyesekera and Zahara Ansary, Country Manager – Sri Lanka, CIMA)
Leading insurance provider Janashakthi Insurance PLC announced its partnership with the Chartered Institute of Management Accountants (CIMA) Sri Lanka on the CIMA Business Leaders Summit for the third consecutive year.
Janashakthi has come onboard as the Platinum sponsor for this year's event that is set to take place on the 11th of September 2017 on the theme "What's Next: The changing business landscape".
"Janashakthi Insurance is delighted to partner the CIMA Business Leaders Summit for the third consecutive year. This year's theme is very relevant to us as an organization as we gear ourselves to become a future-proof business, that is prepared to meet the evolving needs of our customers and create long-term value for all our stakeholders," said Prakash Schaffter, Managing Director of Janashakthi Insurance PLC.
"We are committed to support CIMA in initiatives like this which bring some of the best business minds together to create engaging dialogue on relevant topics. This year's summit comes at a time when the evolving world continues to influence the way we do business, both in Sri Lanka and around the world. Forums like this inspire business leaders to transform their business strategies to succeed in this changing business landscape" added Jude Fernando, Chief Executive Officer of Janashakthi General Insurance Limited.
The Business Leaders Summit is CIMA Sri Lanka's annual flagship event featuring global leaders and influencers on a range of contemporary issues that are shaping the business landscape. This year's discussions are underpinned by the wider concept of technology and business innovation; how organizations are integrating technological advancements into their business models whilst creating value for their stakeholders and addressing pressing issues such as climate change and global/domestic factors which have an impact on their business practices.
"Janashakthi Insurance has been one our longstanding corporate partners in Sri Lanka and has supported several of our key initiatives throughout the years, including the CIMA – Janashakthi Pinnacle Awards. We are delighted to welcome Janashakthi on board as our Platinum Partner in CIMA's flagship event, the CIMA Business Leaders Summit, for the third consecutive year", said Manohari Abeyesekera, Chairperson – CIMA Business Leaders Summit 2017 Organizing Committee.
The Chartered Institute of Management Accountants, founded in 1919, is the world's leading and largest professional body of management accountants, with members and students operating in 177 countries. CIMA works closely with employers and sponsors leading-edge research, constantly updating its qualification, professional experience requirements and continuing professional development to ensure it remains the employers' choice when recruiting financially-trained business leaders.
Janashakthi Insurance PLC, founded in 1994, made its mark in the industry as an innovator and household name over a span of two decades. As an organisation that thrives to deliver excellence in Customer Service by addressing the insurance needs of its customer base, Janashakthi has an island wide branch network of 113 branches, a 24-hour call centre and around the clock assessor service. Today, the Company stands strong as a leader in Motor, Non-Motor and Life Insurance services and continues resolutely on its vision of lighting the lamp of insurance in every home and work place.