---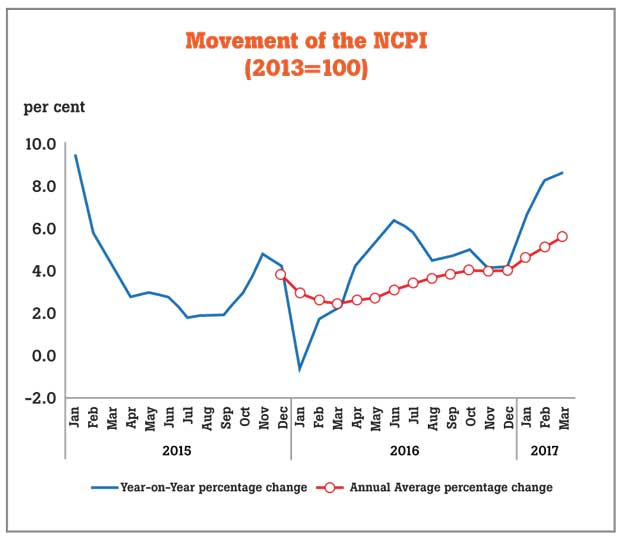 Sri Lanka's national consumer prices reached a 26-month high in March while the authorities seem to be making massive efforts to rein in further price pressures resulting from higher bank credit, weakening rupee and supply disruptions caused by extreme weather conditions in recent times.
Sri Lanka's prices of goods and services measured by the National Consumer Price Index (NCPI), which captures the price movement in all nine provinces, rose by 8.6 percent from a year ago accelerating from 8.2 percent in February, the data released by the Department of Census and Statistics showed.
In March, the Central Bank raised its key interest rates by 25 basis points to discourage bank borrowers and thereby to contain anymore cheap consumption credit, which would overheat the economy as such credit tend to fuel more and more imports, destabilizing the already fragile external sector.
The Central Bank is blamed by some quarters for Sri Lanka's perennial price pressures and destabilized economy as the monetary authority prints scores of money to meet government's funding needsfiscal policy dominance over monetary policy which often results in balance of payment (BoP) crises.
In the recent past, Sri Lanka has seen BoP crises emerging every four to five years as expansionary policies result in higher foreign outflows, either by way of higher imports or capital outflows from government securities, or both, which later having to be reined in through sale of gross official reserves in defence of the weakening rupee.
According to latest data, the gross official reserves continued its decline to US $ 5.1 billion in March from US $ 5.6 billion in February. Sri Lanka's official reserves touched US $ 9.5 billion in August 2014— the highest it has ever reached.
However, President Maithripala Sirisena last week told the heads of media institutions that the economy is on a strong footing with over US $ 5.0 billion in reserves, probably little realizing that it is enough for just about three months of imports and the country's foreign debt obligations run way higher.
The Central Bank Governor, Dr. Indrajit Coomaraswamy however appears to be giving a realistic picture of the economy, as few weeks ago he said Sri Lanka could face a crisis if it failed to sell the Hambantota port to the Chinese in return of top dollars.
Meanwhile, the core national inflation— inflation adjusted for more volatile items such as food and energy prices—slightly eased to 7.0 percent from 7.1 percent a month ago.
The annual average inflation also increased to 5.6 percent from 5.1 percent a month ago.
The consumer prices in Colombo measured by the Colombo Consumer Price Index (CCPI) for the same month reached a multi-year high of 7.3 percent, accelerating from 6.8 percent in February.
More stocks of money in an economy than the available goods and services is fundamental to creating inflation anywhere.
During March, the prices of coconuts, vegetables, some fruits, coconut oil and sugar rose but prices of rice, limes, bananas, potatoes, green chilies and Mysore dhal decreased.
Sri Lanka's incumbent government, which came to establish a social-market economy, had to resort to mercantilist practices of price controls for rice when they could not control the prices anymore.