---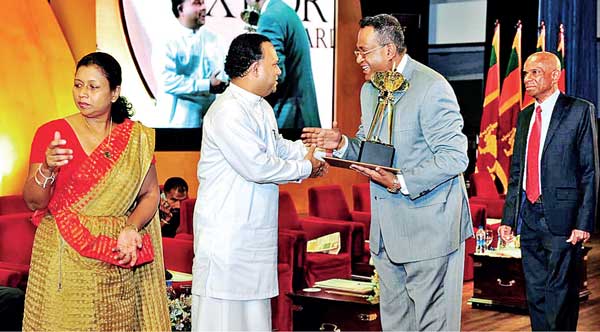 Haycarb Plc Managing Director Rajitha Kariyawasam accepting the award
Haycarb PLC, the globally-renowned Activated Carbon Products and Solutions sector of the Hayleys Group was conferred with a Presidential Award for its immense contribution to the development of Sri Lanka's value added exports and foreign exchange earnings.

The award for the Highest Value Added Exporter in Coconut Non-Kernel Products Categoryfor two consecutive years – 2014 & 2015 - was presented to Haycarb PLC at the recently concluded Presidential Export Awards organized by the Export DevelopmentAuthority (EDB).
The company is among an elite few corporate enterprises globally that have engrained sustainability as a pillar of its core business. This has enabled Haycarb to challenge the competition and achieve a leading position in the coconut shell activated carbon business.

Furthering its core value of sustainable business practices, Haycarb through its environmental engineering subsidiary Puritas Ltd initiated a flag ship CSR project "Puritas Sath Diyawara" for the Hayleys Group that benefits communities in some of the most rural villages in the North Central Province of Sri Lanka which were affected by Chronic Kidney Diseases (CKD). This ongoing project, in close collaboration and sponsorship of key sectors of its parent Company, Hayleys PLC, has resulted in 11 Reverse Osmosis Plants being installed to support 16 villages with over 110,000 liters of clean drinking water a day, with more villages to be provided with these plants
in the near future.

"It is an honor to be recognized for our contribution to the Development of Sri Lanka's value added export sector. As a leading provider of activated carbon products and purification solutions we are continually striving to achieve innovation led growthand value additionin order to maximize our foreign exchange earnings potential and export growth," said Rajitha Kariyawasan, Managing Director
Haycarb PLC.

Established in 1973, the company today enjoys an estimated 16 percent of the global market share and operates six activated carbon manufacturing locations in
Sri Lanka, Thailand and Indonesia, supplying a global sales network with marketing subsidiaries in USA, UK and Australia.
Haycarb is the pioneer manufacturer of coconut shell activated carbon in any coconut producing country with manufacturing facilities in Sri Lanka, Thailand and Indonesia supported by marketing offices in the USA, UK
and Australia.

The company contributes net foreign exchange revenues with its value adding processes whilst remaining a leading and technologically superior manufacturer in its chosen segment and expanding regionally in environmental engineering segment.