---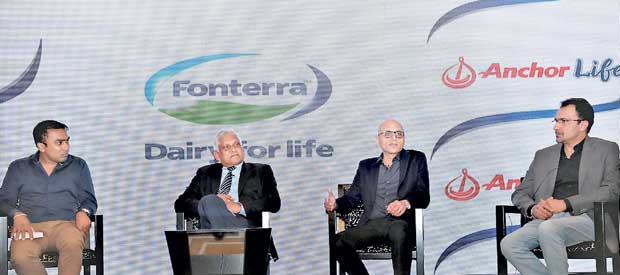 To help Sri Lankan adults live their lives to the fullest, Fonterra Brands Sri Lanka, the company behind Anchor, has launched another country first with its latest dairy innovation focused on heart health.
Anchor Life low fat milk powder has been specially formulated with plant sterols to help reduce blood cholesterol and provide Omega-3 fatty acids, dietary fibre, and other important vitamins and minerals for heart health. It is the first specialised adult dairy productin Sri Lanka to include an ingredient that reduces blood cholesterol.

The dairy co-operative introduced Anchor Life on the back of an Adult Market Usage and Attitude study in 2015,undertaken by TNS,which revealed one of the key health concernsamong ageing Sri Lankans washigh cholesterol, among other issues such as blood pressure and high sugar intake.
Alongside this research, Fonterra polled nearly 5,000 Sri Lankans on how they perceived getting older as impacting their lives. A concerning 48 percent of those surveyed reported that age has been a barrier to pursuing what they love. Interestingly,most respondents (53 per cent)said they stopped following their heart ataround 30 to 40 years, believing that reaching this age did impact their lives.
Managing Director of Fonterra Brands Sri Lanka and the Indian Subcontinent, Sunil Sethi, said understanding these growing health concernsrevealed a need to provide Sri Lankans with more support around healthy ageing, and, in particular, heart health.

"At Fonterra, we know that age does not have to be a barrier to following your heart, and that signs of slowing down with age should not stop you from living life to the fullest. This inspired us to look at a product that would support these nutritional requirements," said Sethi.

"This is a new space for Anchor and in fact, for the entire country as it is the first specialised adult dairy productin Sri Lanka with added plant sterols to focus on cholesterol reduction," said Sethi.
Sethi said the latest dairy product is part of Fonterra's ongoing commitment to meeting the evolving, nutritional needs of Sri Lankans throughout their life stages.

In line with the recent World Heart Day last week, Sethi introduced the new innovation during a panel discussion with Mahela Jayawardene, where panelists focused on the importance of combining good nutrition with healthy lifestyles for better heart health.

Kicking off the panel, Mahela Jayawardena encouraged Sri Lankans to continue to follow their hearts, despite their age. An entrepreneur, husband, father, and still ever present in the cricketing world, Mahela shared why he continues to follow his heart. Having retired from playing international cricket, he shows no signs of slowing down and shared his passionon encouraging others to also live lives to the fullest.

Also joining the panel was Fonterra Brand Sri Lanka Director for Research & Development, Food Safety, Quality and Nutrition for Fonterra Brands Sri Lanka, Manish Singh.