---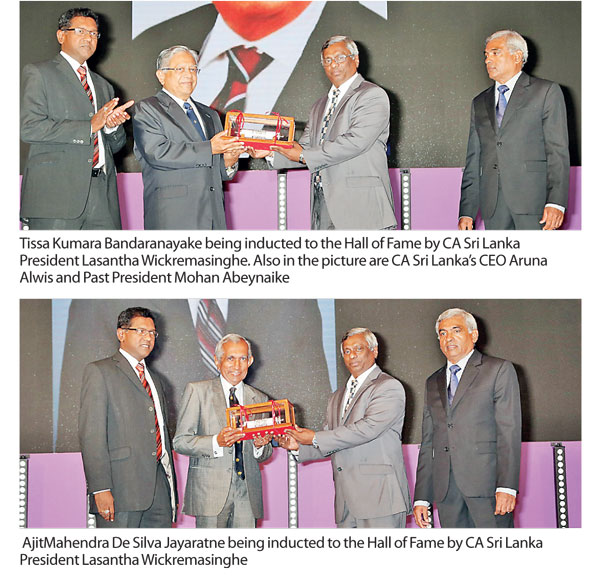 The Institute of Chartered Accountants of Sri Lanka (CA Sri Lanka) recently paid tribute to two eminent chartered accountants by inducting them to the CA Sri Lanka Hall of Fame in recognition of their exemplary contribution towards the development of the accounting profession, the business world and the country.

Well known accounting personalities Tissa Kumara Bandaranayake and Ajit Mahendra De Silva Jayaratne were inducted to the Hall of Fame for the year 2016 at a ceremony held at the BMICH recently.

Bandaranayake, a fellow member of CA Sri Lanka is a highly respected accounting professional in the country, who has served across top organisations within a span of many decades including that of Senior Partner at Ernst & Young (Sri Lanka) where he served for 27 years until his retirement in 2009.

Bandaranayake has also held top management positions, having served in the Board of Directors of Brown & Co PLC, Harishchandra Mills PLC, Overseas Reality (Ceylon) Ltd., Renuka Holdings PLC, LAUGFS Gas PLC, Nawaloka Hospitals PLC, Samson International PLC, Waters Edge Ltd., Micro Holdings Pvt Ltd. and Renuka Foods PLC. Prior to these positions, Bandaranayake also served as an Independent Non-Executive Director of DFCC Bank and as a Senior Independent Non-Executive Director of Central Finance Co. PLC. He also served as Director of Lanka Ceramic Ltd, Lanka Tiles Ltd, Noritake Lanka Porcelain (Pvt) Ltd, Lanka Walltile Ltd and Hayleys Photoprint (Pvt) Ltd.

Jayaratne who was also inducted to the CA Sri Lanka Hall of Fame for 2016, is a fellow member of the institute who has played a remarkable role in both the public and private sectors in the country, and currently serves as Chairman of both Kia Motors and of Colonial Motors.
He is also a non-executive director to 10 public listed companies including Overseas Realty, Colombo Fort Land & Building Co, ACL Cables, C. W. Mackie and Kotagala Plantations, and serves as Chairman of the audit committees to most of these companies.

During his early days in Sri Lanka, Jayaratne worked at Ford Rhodes Thornton & Co, now known as KPMG, and joined Forbes & Walker Ltd as an Accountant, where he progressed to become Director and then Chairman of the company. He also served as Chairman of the Ceylon Chamber of Commerce and the Colombo Stock Exchange. It was during his tenureas Chairman of the Colombo Stock Exchange that the much heralded Central Depositary System was initiated.

Jayaratne was also appointed by former President J. R. Jayewardene as the first Chairman of the Finance Commission from 1988 to 1996. Subsequently, as a result of his significant contribution to the private sector and the stock market in particular, former President RanasinghePremadasa conferred the title of Deshabandu on Jayaratne.
He also served as Sri Lanka's High Commissioner to Singapore and Sri Lanka's Ambassador to Brunei.