---
Richard Pieris and Company PLC Chairman Dr. Sena Yaddehige was conferred an honorary doctorate by the University of Kelaniya in a recent ceremony held at the BMICH.

The ceremony was graced by many senior delegates. The honorary doctorate was awarded by the University of Kelaniya Chancellor.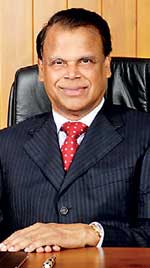 Being a Sri Lankan-born British scientist and engineer and a Swiss-based industrialist, Dr. Yaddehige is not only an eminent corporate leader but also the proud owner of a number of patents worldwide in radiation technology, polymer technology, automotive sensors and accelerator pedal modules, along with slow release fertiliser.

He is also known for founding a host of companies both on Sri Lankan soil and overseas, where more than 33,000 Sri Lankans are currently employed. He is currently serving as Chairman of five publicly listed companies and heads over 52 companies, wholly- or majority-owned by Richard Pieris and Company PLC.

Dr. Yaddehige is acclaimed for setting up the largest automotive sensor business in the UK and currently serves as Managing Director of a European firm and Chairman/CEO of a US firm in the automotive industry. Dr. Yaddehige was also a Director of National Development Bank PLC.
After assuming the role of Chairman of Richard Pieris and Company PLC, a leading conglomerate in manufacturing, engineering and plantation, Dr. Yaddehige has revitalised the vision and management of the company and provided leadership to significantly expand it over the years. Today Richard Pieris has become one of the largest and most successful conglomerates in Sri Lanka.

He has also been a pioneer in establishing a research and development centre at the company's head office, actively collaborating with a number of universities to explore new frontiers. The research and development centre will focus on developing nanotechnology and lithium ion technology, where a lithium ion battery lab is being set up in collaboration with Japanese scientists.

Previously Dr. Yaddehige was the recipient of a prestigious honorary title, Doctor of Science (D.Sc.), conferred in honour of his contribution to scientific and technological research.