---
The board of directors of Sampath Bank at a meeting held on May 28 had decided to appoint Dhara Wijayatilake as the bank's Deputy Chairperson, consequent to the conduction of the 34th Annual General Meeting (AGM) of the bank.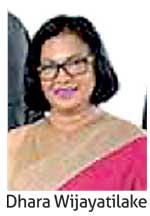 Accordingly, Wijayatilake's appointment has been effected subsequent to the conclusion of the AGM held on June 2, 2020.

Wijayatilake's appointment as Deputy Chairperson comes in the wake of the resignation of Sumya Amarasekera as the bank's Non-Independent, Non-Executive Deputy Chairperson, with effect from June 2, 2020.

Before being appointed as Deputy Chairperson, Wijayatilake was serving the bank as a Non-Executive, Independent Director. She was appointed to the board on August 30, 2011.
Wijayatilake, Attorney-at-Law, LLB (Cey), retired from the Public Service in August 2015, after 41 years of services. She is the first woman in the public service of Sri Lanka to be appointed as a Secretary to a Cabinet Ministry.