---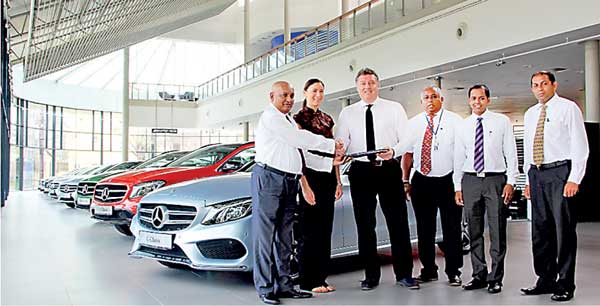 From left: DIMO Chairman Ranjith Pandithage, Shangri-La's Hambantota Resort & Spa Director Sales Britta Ripke, Shangri-La's Hambantota Resort & Spa Director Sales and Marketing Marcel Kromhout, DIMO CEO Gahanath Pandithage, Mercedes-Benz Sales GM Rajeev Pandithage and Mercedes-Benz Passenger Vehicles Sales Manager Dinesh Gunaratne
The 'MercedesTrophy 2016 Sri Lanka Country Finals', the most sort-after golf tournament in the Sri Lankan golfing calendar, will tee off in style partnering with Shangri-La's Hambantota Resort & Spa.
Diesel & Motor Engineering (DIMO) PLC, the authorized general distributor for Mercedes-Benz in the island, is set to tee off MercedesTrophy Sri Lanka Country Finals 2016 from June 10 to 12, which will be open exclusively for Mercedes-Benz owners making the MercedesTrophy the most elite golf tournament in the country.

The event, which was held previously at locations such as Nuwara Eliya and Trincomalee, will be venturing into the Deep South destination of Hambantota for the very first time and Shangri-La Golf and Country Club is Sri Lanka's newest 18-hole golf course, which is due to be opened soon.
The tournament will feature three handicap groups for men (Division A: 0-12, Division B: 13-20, Division C: 21-24) and one handicap group for women (Division D: 0-36). The winners stand the chance to compete in the Mercedes Trophy Asian Finals, which will be held in Australia. Those successful there will get the chance to compete in the Mercedes Trophy World Finals in Stuttgart, Germany. The Stableford winners of each handicap group will qualify for the Asian Finals.

Expressing his views on the tournament, DIMO Mercedes-Benz General Manager Rajeev Pandithage stated, "We are thrilled to be able to take MercedesTrophy Sri Lanka County Finals 2016 to Shangri-La's Hambantota in the latest golfing destination of the island, which will add more exclusivity in this year's tournament."

"MercedesTrophy 2016 has made its name as one of the most anticipated tournaments among the golfing fraternity, primarily due to its exclusive nature, excellent organising, challenging courses and outstanding prizes on offer. It is undoubtedly a grand celebration of what Mercedes Benz stands for and we are expecting around 120 registrations this year," he said.

He added that the MercedesTrophy is once again here to transform a pure sporting extravaganza into a lifestyle brand experience.

"The participants of this tournament comprise of distinguished achievers from all walks of life and many find this event a great opportunity to meet and interact with other Mercedes-Benz owners," he claimed.

Accommodation for the golfers will be provided at the Shangri-La's Hambantota Resort & Spa, where they arrive on June 10, play the tournament on June 11 and leave on the next day.