---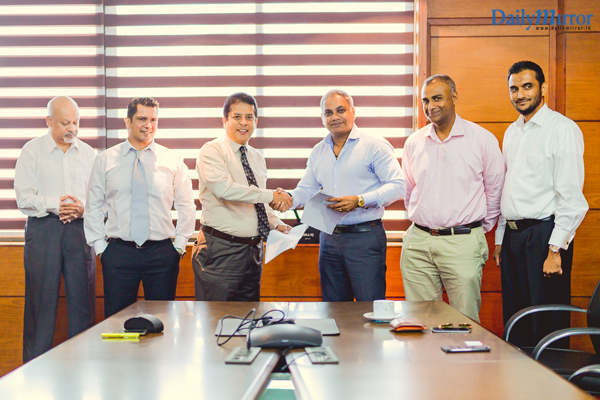 Mr. Tyrone De Silva – Director, Synapsys, Mr. Dinesh Fernandopulle – Managing Director/ CEO, Synapsys, Mr. Lakshman Silva – Chairman, Synapsys CEO, DFCC Bank, Mr. Duminda Jayatilake– Managing Director, Tenaga, Mr. Fazal Hameed – Director, Tenaga, Mr. Rehab Areef – Director, Tenaga
Synapsys, the FinTech subsidiary of DFCC Bank, recently signed an agreement with Tenaga Car Parks (Pvt) Limited to provide a mobile payments platform for managing parking points in the Tenaga 'Park Smart' Smart City initiative. The Colombo Municipal Council (CMC) has awarded a tender to Tenaga to initiate a smart parking management and fee collection system on Galle Road and R.A. De Mel Mawatha (Duplication Road) and on all by-roads in-between. Now with the Synapsys mobile payment platform, parking customers can purchase parking points upfront and utilize them later, or buy Parking Points on demand, making it convenient to pay for parking via the Tenaga 'Park Smart' mobile app. Synapsys has ensured that users have the freedom of linking multiple funding sources such as mobile cash, any credit /debit card and numerous other funding methods to this platform. DFCC Bank will guarantee security and compliance requirements.
Expressing his views, Lakshman Silva, Chairman of Synapsys and CEO – DFCC Bank said, "Synapsys is proud of this partnership with Tenaga, as we believe this smart parking initiative will transform this aspect of people's daily lives. In designing every FinTech solution, Synapsys has demonstrated its technical capability of its high quality computer engineering and banking experts, backed strongly by the highly-respected credentials of DFCC Bank. All solutions by Synapsys target real business needs and the company has built a reputation as a dynamic and innovative technology firm with an array of products and services supporting banks, capital markets, insurance and retail payments across Asia and Pacific."
Synapsys CEO, Dinesh Fernandopulle commented, "This mobile payment platform provided by Synapsys to Tenaga will offer convenience to customers who can top-up parking points at their convenience, locate and pay for their parking spot from their phone. Often, we are faced with the prospect of extending parking times because our work is taking longer than anticipated. Now, this can be done remotely direct from your mobile app! Synapsys was privileged to win the LankaPay sponsored Best Mobile Payment Application at the NBQSA Awards this year. However, we are not resting on these laurels, but are bringing our technology to such practical applications and SMART initiatives."
Tenaga has already implemented an enforcement system, which will capture the vehicle numbers periodically and identify the vehicles that have not paid for parking and enforce fines. The entire system is empowered by a combination of leading self-service outdoor kiosks and vehicle detection and enforcement technology.
Commenting on the partnership, Mr. Duminda Jayatilake - Managing Director, Tenaga Car Parks, said, "It is our privilege to partner with Synapsys and DFCC Bank for the proposed Mobile Payment Platform, which will streamline Tenaga's 'Park Smart' mobile app, providing users a hassle-free parking payment system on their fingertips. Tenaga has been the pioneering and premiere parking solutions provider in Sri Lanka and the sub-continent region for the past 14 years. Over the years, we have striven to bring cutting-edge technology to the parking industry. Tenaga has partnered with the Colombo Municipal Council on a PPP (Private Partnership Project) model project to implement solar powered parking meters in designated areas of Colombo. The mobile payment platform initiative via Tenaga 'Park Smart' App with Synapsys and DFCC is another cutting-edge invention for the parking industry that Tenaga brings to Sri Lanka. We are also proud to say that in our small way we are contributing to the vision of His Excellency the President and the Prime Minister of Sri Lanka to convert the city of Colombo to a 'Smart City', by introducing the leading technology which facilitates general public's parking requirement."
Celebrating its 11th anniversary this year, Synapsys is focused on financial services and has become a preferred IT partner for various industries streamlining their operations in payments, trade and commerce.