---
Aims to become a sophisticated industrial enterprise from agriculture programme
Plans to venture into production of a wide range of value-added products with state support
Dedicated research institute to be established for value-added tea products
Govt. to introduce new financial scheme, including grants, to encourage replanting and new planting
Industry renews call for global promotion campaign with funds collected from tea exporters
Expresses concern on lack of progress in obtaining GI certification for Ceylon Tea
By Nishel Fernando
Despite the challenges, Sri Lanka's tea industry, with state assistance, is hoping for a gradual transformation to a sophisticated industrial enterprise by venturing into the production of a wide range of value-added products while enhancing efforts to improve the quality of teas.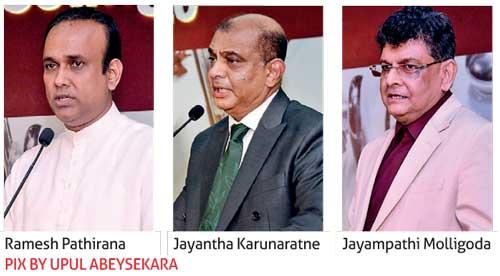 Plantation Minister Ramesh Pathirana announced that the government would establish a new arm for research and development (R&D) of value-added products using tea, to support the industry players to boost value addition in the sector.

"Many cosmetic products, including shampoo, haircare products, skincare products as well as liquors, are produced from tea.

This is the way forward. We will work with the relevant stakeholders, with the help of the Sri Lanka Tea Board, to establish a different research arm, to ensure that we produce more value-added products in the country," Pathirana told the 126th Annual General Meeting (AGM) of the Colombo Tea Traders Association (CTTA), held in Colombo, last Friday.Meanwhile, CTTA Chairman Jayantha Karunaratne emphasised the need for government assistance to the 150-year-old Ceylon Tea industry, to transform it into a sophisticated industrial enterprise.

"There is unanimity that the gradual transformation of the tea industry, from a fundamental agriculture programme to a sophisticated industrial enterprise, is indispensable for dynamic progress. This requires encouragement and support of state agencies in regard to product innovations and diversifications as well as R&D, for which the industry can facilitate with the relevant proposals," he elaborated.
The CTTA last year launched 'Ceylon Tea Road Map 2030', which aimed to enhance annual tea production to 350 million kgs while doubling the export earnings to US $ 3 billion by 2030. In addition, the Plantation Ministry also launched a five-year review.

Karunaratne urged the authorities to allocate funds to implement recommendations of these initiatives under a secretariat.

"It requires a dedicated secretariat, which could organise workshops, analysis programmes, educational seminars, etc. All the industry stakeholders must pledge dedication to the implementation of the action plan. A reasonable sum from the promotion and marketing fund needs to be allocated annually to operationalize the recommendations," he said.

Meanwhile, Pathirana revealed that 30 million good quality tea planting materials would be ready by mid next year for planters, which is aimed at enhancing the yield and quality of Ceylon Tea.

He thanked the industry for its contribution in setting up 500 tea nurseries, at a cost of Rs.600 million.
Further, the government is looking into introducing new financial schemes, including grants to planters, to encourage replanting and new plantings, in addition to the current subsidies.

Meanwhile, CTTA Chairman Karunaratne expressed concerns over the continuous delay in launching the global promotion campaign, with the funds collected from the tea exporters.

"These funds either should be invested in promotional campaigns conducted in markets with the greatest growth potential or allocated to established brand owners to conduct their own campaigns independently in the international markets of their choice," he added.

Along with the global promotional campaign, he urged the government to engage with a reputed PR firm to counter the negative publicity seen in international media regarding Ceylon Tea, recently,

"There has been a continued campaign of negative publicity by international NGOs against the Sri Lankan tea industry, with emphasis on exploitation of plantation workers. It is critical that we counter this misleading propaganda and we may have to engage a competent PR company to compliment the global campaign for the promotion of Ceylon Tea," he said.

However, he welcomed the move by the government to temporarily suspend the collection of Promotion and Marketing Levy, with effect from July this year and plans to reduce the levy to Rs.3 per kilo, of which Rs.1.50 would accrue for the promotion and marketing fund, while the balance will be granted to producers to enhance repairing.
Furthermore, Karunaratne was also concerned over the lack of progress in the registration of Geographical Indication (GI) of Ceylon Tea, an initiative started by the Sri Lanka Tea Board (SLTB) 15 years ago.

In response, SLTB Chairman Jayampathi Molligoda revealed that the SLTB is currently working with the Sri Lanka Atomic Energy Board (AEB), backed by the International Atomic Energy Agency, in differentiating Ceylon Tea from other origins of teas scientifically.

"They are confident of scientifically differentiating Ceylon Tea from any other origin, using this technology with isotopes," he said.

He noted that this process could potentially take some time. In addition, he highlighted the need to amend the Intellectual Property Act of 2016, before applying for GI registration.

Pathirana noted that Sri Lanka could also apply for GI registration for different tea growing regions.

The GI registration of Ceylon Tea is expected to be beneficial for the country, particularly in markets such as Russia. Among other key developments, the Colombo Tea Auction, which went digital during the lockdown, is scheduled for a key upgrade, to further smoothen the operations within next two months.

"We are presently in the process of developing new advanced software to upgrade and ensure a more expeditious operation and hope to be able to launch within the next two months," Karunaratne said.

The world's oldest tea auction, the Colombo Tea Auction, held its first-ever e-auction from April 4 to 7, facilitated on a digital platform, supporting buyers and sellers to mitigate cash flow challenges during the lockdowns while ensuring uninterrupted supply of tea.

Sri Lanka's tea industry is facing growing challenges with regards to declining crops, fertiliser usage, replanting and wage issues of plantation sector workers as well as adverse impacts of climate change.
---
Govt. mulls curbs on refuse tea processing
The government is considering restricting the processing of refuse tea in the country, alarmed by the increase in refuse tea quantities and rising activities of illegal export rackets of refuse tea, which endanger the Ceylon Tea brand.

"With consultations from stakeholders, we are evaluating whether we need to continue to process refuse tea," Plantations Minister Ramesh Pathirana said.
He noted that there's an evident increase in quantities of refuse coming out of tea factories.

"This has brought down the name of Ceylon Tea to an unacceptable level. If we obtain good quality leafs and produce good quality tea, the refuse tea quantity should come down," he added.

Meanwhile, the SLTB has recently suspended issuing new licences for refuse tea processing.

At end-2017, there were 310 refuse tea processing centres registered with the SLTB, with most of them located in the Gampola/Hatton areas.

Further, the SLTB had also issued 7,708 trade permits for refuse tea processing, at end-2017.

The scheme for issuing permits for refuse tea processing centres was introduced in 2009. Processing of refuse tea is a procedure of extracting consumable tea from un-denatured refuse tea.