---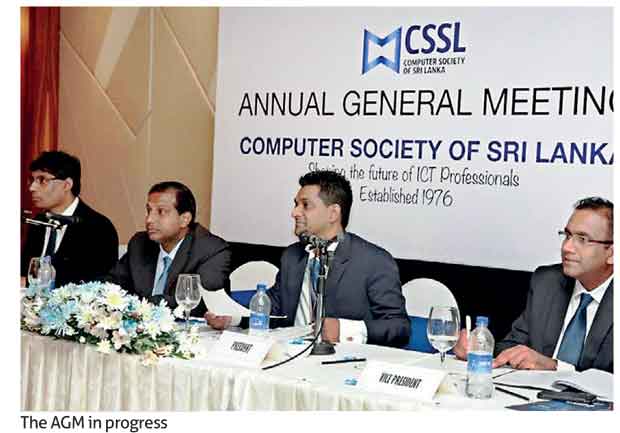 Yasas V. Abeywickrama was re-elected as President of Computer Society of Sri Lanka (CSSL) on December 5th at the AGM held at Taj Samudra Hotel for the year 2018.

Along with Abeywickrama, all council members from last year were also re-elected for another term. The CSSL is the professional association for IT professionals in Sri Lanka.

The re-election comes after an extremely successful year for CSSL. In 2017 the CSSL organized Sri Lanka's biggest ever international IT event in the history.
The year 2017 will be marked as a historic year in the rich history of CSSL, as under Abeywickrama's leadership the Global IT General Assembly was hosted in Sri Lanka with the presence of over 50 countries together with a host of other international events last September.

Also in 2017, to combat the dengue problem, the CSSL partnered with Nantang University Singapore, Skoll Global, Colombo Municipal Council and University of Colombo School of Computing to develop a digital solution to manage the environment and all relevant aspects better. This project was fully foreign-funded, international relations supporting CSSL being nationally impactful.

In 2017, to support new innovations and emerging IT professionals, the CSSL supported a hackathon event together with Garnes Labs. Australian Computer Society's Digital Assets platform was made available for CSSL members at a discounted rate. CSSL IT Mastermind was organized for the 6th year, while CSSL Tech Talks, CIO Forum and CSSL ICT Awards were also organized successfully enriching the IT sector. The organization has made major strides in making their degree accreditation process globally-acceptable by entering into the process of becoming a signatory of the global standardization scheme, Seoul Accord.

At the AGM held this week, CSSL President while thanking his broad membership for re-electing him as well as his executive council once again, pledged that the executive council will expand its work in 2018. He stressed the importance of younger IT professionals joining the professional body and he will take lead in implementing strategies to achieve this.

The CSSL will continue to take part in government and industry forums, representing and lobbying on behalf of their members. They will maintain their stance on ETCA that foreign professionals should only be allowed after checking on their quality and also after establishing local rules to safeguard the professionals in our sector. Strong international collaborations will be further maintained and enhanced.

The CSSL Executive Council elected for 2018 is as follow. President - Yasas V. Abeywickrama, Vice President - Prabath S. Wickramaratne, Secretary - Damith Hettihewa , Treasurer - Dr. Ajantha Athukorala, Asst. Secretary - Dr. Malitha Wijesundara, Asst. Treasurer - Parakum Amaranga, Publication Secretary - Enosh Praveen, Student Counselor - Prof. Samantha Thelijjagoda, Council Members Dr. Dayan Rajapakse, Heshan Karunaratne, Buddhika Senasekara, Sajith Sameera.