---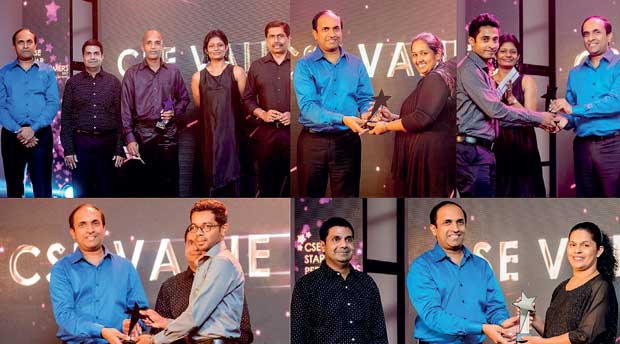 The Colombo Stock Exchange (CSE) recently held its year-end employee recognition event themed 'CSE Star Performers 2017'.

The event recognized long-serving employees, young achievers and employees who have best demonstrated CSE's corporate values.

Five employees were rewarded with the 'CSE Value Champion' accolade for championing CSE's corporate values of integrity, professionalism, teamwork, care, and passion. Sumudu Senapathirathne, Chandana Wijesundara, Mahinda Wijewardena, Thanuja Aluvihare and Gihan Fernando were recipients of the awards.

Long Service Awards were presented to long standing employees of 25 and 10 years. Chandra Kumara, Sirimal Abeywardane and Anura Shantha (25 years) and Ruchira Jayasinghe, Gayathri Akmeemanaand Charundika De Silva (10 years) were presented with Long Service Awards.
The CSE Young Achiever Awards, which have over the years been used as a platform to recognize educational and other achievements by children of staff members was continued in 2017, and saw a number of children being recognized for their exceptional achievements.

CSE CEO Rajeeva Bandaranaike commenting on the initiative said, "The event was an exercise to recognize and reward staff for their commitment to uphold the values of the organization and their efforts to positively contribute to the CSE's progress. The contribution of our employees has been vital to achieving the positive outcomes we achieved this year."

"The event was also about providing the families of the staff an opportunity to get together and engage and get a feel of what the CSE stands for as an organization. We understand that families, through our employees, are very much a part of our support team," he added.