---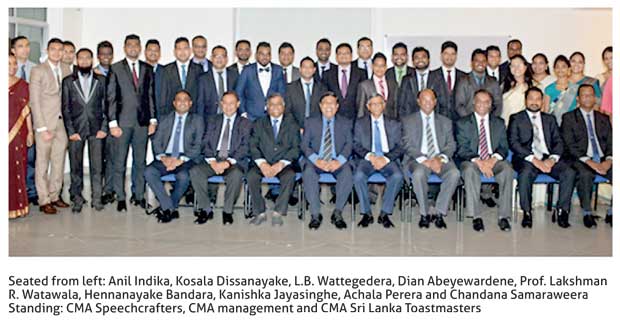 The CMA Sri Lanka Toastmasters Club successfully conducted the fifth consecutive batch of speechcrafters sponsored by the Institute of Certified Management Accountants of Sri Lanka (CMA).

Thirty two members, passed finalists and final year students attended the programme over a period of 10 weeks. This speechcrafter batch in particular showed great commitment and dedication with 11 participants achieving 100 percent attendance and the rest fulfilling the minimum requirement of 80 percent attendance to successfully receive the certificate of successful participation from Toastmaster International USA.

In total, six speechcraft programmes have been conducted and 150 students have benefited by attending this programme. The first speechcraft programme was conducted by the Colombo Toastmasters Club, which initiated to form the CMA Toastmasters Club in 2015.

Prof. Lakshman R. Watawala together with the Council Members of CMA has continued to display commitment to enrich and enhance the knowledge and soft skill development of its members, passed finalists and final year students, enabling them to develop their leadership skills and achieve career progression in the corporate world.

The performance displayed by the fifth batch of speechcrafters showed tremendous progress and enthusiasm with speeches on 'Lifestyle and stress' and an interesting speech on 'After departing from this world' under Project 3 speeches. Four other excellent speeches at Project 2 level were delivered creating much interest and impression on the audience.

The final award ceremony of the fifth batch was successfully concluded at the CMA Auditorium recently. The chief guest, Prof. Watawala, expressed his congratulations to the participants for their amazing performance.

The certificates were presented by Prof. Watawala, CMA Sri Lanka Vice President Hennayake Bandara, CMA Sri Lanka CEO Kanishka Jayasinghe and CMA Consultants L.B. Wattegedara and Kosala Dissanayake.

CMA Sri Lanka Toastmasters Club Vice President Education Anil Indika, IPP CMA SL TMC Achala Perera, Charter President CMA SL TMC Chandana Samaraweera and other club members were also present.

The awards ceremony was conducted by Course Director Toast Master Dian Abeyewardene.

The next batch of the speechcraft programme will commence in January 2018 for members, passed finalists and final year students of the Institute of Certified Management Accountants following the footsteps of the successful batches of participants.