---
CSE comes on board as strategic partner
By Zahara Zuhair
Reiterating Colombo Stock Exchange's commitment to encourage companies to embrace concepts such as integrated reporting which promotes corporate transparency and performance in relation to financial and non-financial development that ultimately results in enhancing shareholder value, Colombo Stock Exchange Chairman Ray Abeywardena this week pledged that they will continue to enhance the quality of information available in the capital market.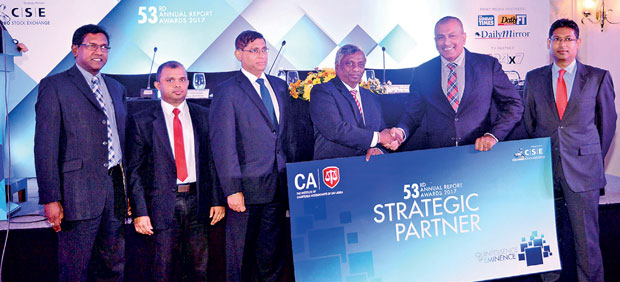 From left: CA Sri Lanka CEO Secretary Aruna Alwis, Annual Reports Awards committee Chairman Sanjaya Bandara, CA Sri Lanka Vice President Jagath Perera, CA Sri Lanka President Lasantha Wickremasinghe, Colombo Stock Exchange Chairman Ray Abeywardena and Head of Market Development Niroshan Wijesundere.
Pic by Pradeep Pathirana
He made remarks at an event held to announce 53rd Annual Report Awards Competition organized by The Institute of Chartered Accountants of Sri Lanka (CA Sri Lanka) which is to take place in December. He said that this competition is recognized by the business community as an acknowledgement for quality reporting.

"In the face of rising stakeholder expectations and ever revolving regulatory framework both public and with private companies facing the challenge of sharpening their quality reporting, CA awards helps to bridge gaps in reporting, strengthens the objective behind CA promoting transparency, accountability and good governance," he said, where they will be on board as the strategic partner for the competition.

An accurate, timely financial report with comprehensive corporate disclosure not only helps foster confidence of shareholders and investors of a company, but also contributes to the building up of the company's public image and reputation, CA Sri Lanka President Lasantha Wickremasinghe said.
"As Sri Lanka strives towards becoming an upper middle-income country, there is an increasing importance for organizations, from the public and private sectors to be more accountable and responsible," he said.

Launched in 1964, the competition is held aimed at recognizing and rewarding excellence in annual financial reporting and this year it will revolve around the theme, 'Quintessence of eminence'.
It was noted that last year around 140 companies had sent applications and this year they expect the number to increase up to 150. Further, the number of sectors also has been increased from 22 to 25. The three new sectors added were; the manufacturing, banking institutions, finance and leasing sectors.

The other sectors will be food and beverages companies, healthcare institutions, trading companies, hotel companies, insurance companies, land and property companies, diversified holdings, service organizations, telecommunication companies, power and energy companies, not-for-profit organisations (NPOs) including non-governmental organisations (NGOs) and small and medium sized entities, unit trusts, media and entertainment and motor companies. Wickremasinghe said that the only thing that has been consistent about this competition is its independence.

The evaluation of the competition is carried out at three rounds. The initial selection process is conducted by a technical marking panel and then the short listed Annual Reports are subjected to an intense technical review by a panel of industry experts. At the third and finical stage of judging, the shortlisted Annual Reports are reviewed by the final panel of judges.

"The overall winners are selected purely on merit, irrespective of the sector and the financial performance," he said.

Annual Reports Awards Committee Chairman Sanjaya Bandara said that the institute was continuing to update the checklists of the competition to keep pace with the changes to the accounting standard and other relevant pronouncements.

Apart from the overall winners and the winners under each respective category, the competition will also reward organisations for corporate governance disclosure, corporate social responsibility reporting, management commentary, integrated reporting, integrated reporting - best disclosure on capital management and integrated reporting - best disclosure on business model.

Entries for the competition will close on 31st August. The print media partner for the event is Wijeya Newspapers Ltd.