---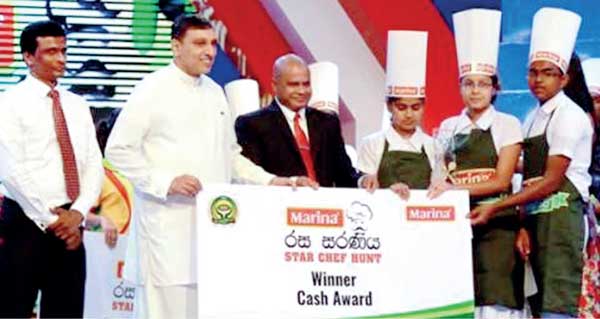 In a remarkable achievement, Ananda Maithri Maha Vidyalaya in Balangoda, emerged the grand winner at the finale of the prestigious Marina Star Chef Hunt competition, Sri Lanka's first-ever and only realty chefs contest conducted by Marina Food (Private) Limited, in collaboration with Swarnavahini Television and the Education Ministry.

The second place in the competition was won by Ave Maria Convent in Negombo, while Obbegoda National School in Moneragala secured the third place. The final round of the Marina 'Star Chef Hunt' contest was conducted at the Sarasavi Studio, Kelaniya, under the patronage of NMK Group of Companies Chairman and Managing Director Manjula Narayana and with the participation of Education Ministry Secretary Sunil Hettiarachchi and a large turnout of guests and invitees, recently.
The initial phase of the Marina Star Chef Hunt competition was conducted with the active participation of 3,000 students drawn from 1,000 schools on a district basis under a pragmatic mechanism, which encompassed all nine districts of the country. For the final round of the event, 36 schools were selected at the competition held at Ape Gama premises in Battaramulla, and was telecast over Swarnavahini Television's Marina Rasa Saraniya programme.

In the final round, 14 schools were shortlisted for the grand finale and it was these schools which competed vigorously amongst themselves to emerge winners by securing the first, second and third places at the competition. The grand finale was also telecast over Swarnavahini Television. Winners of the Marina Star Chef Hunt competition and the respective schools they represent are awarded valuable prizes.

Marina Star Chef Hunt competition is one of the key corporate social responsibility (CSR) initiatives of NMK Group of Companies. "We introduced this competition to provide a window of opportunity to students in schools islandwide to develop their inborn culinary talents and give them access to national recognition by identifying, appreciating and rewarding their capabilities and aptitude in cookery,"
said Narayana.
"As a 100% Sri Lankan company, which is committed to make a significant contribution towards building a healthy and strong nation, it is also our goal to develop the culinary art industry by producing accomplished male and female chefs who will do their motherland proud," he stressed.
Speaking on the occasion, Hettiarachchi said, "Marina Star Chef Hunt is Sri Lanka's first-ever and only realty chefs competition. It has given a tremendous boost to students pursuing home science as a subject in schools, while making a big contribution towards popularizing this important subject and also help school children to improve their knowledge, fine-tune their talents and broaden their horizons of knowledge."

"In addition, this initiative by Marina has gone a long way to add value and afford more recognition to home science as a subject in the GCE (Advanced Level) syllabus.