---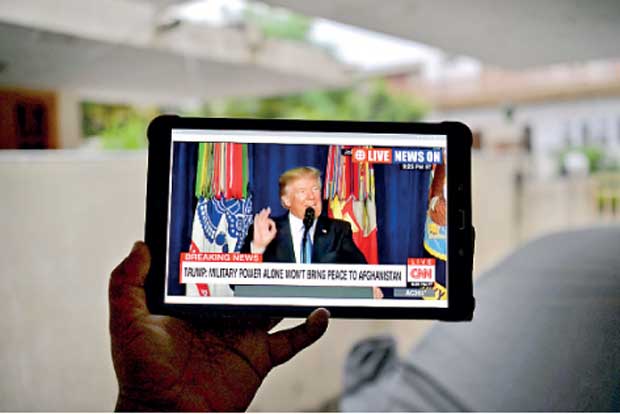 A Pakistani resident watches his tablet devicea live broadcast of US President Donald Trump delivering his address from Joint Base Myer-Henderson Hall in Arlington (AFP)A Pakistani resident watches his tablet devicea live broadcast of US President Donald Trump delivering his address from Joint Base Myer-Henderson Hall in Arlington (AFP)
Angry and offended Pakistanis fired back Wednesday against Donald Trump's accusations that their country harbours militants, highlighting the heavy toll they have paid fighting extremism and slamming his embrace of arch-rival India.

Trump lashed out at US ally Pakistan, "We have been paying Pakistan billions and billions of dollars at the same time they are housing the very terrorists that we are fighting," Trump said. Pakistani civilians have little power over regional strategy but have lost homes and loved ones to militant violence which has killed thousands in their own country since 2007.Trump's remarks provoked hurt and outrage among many.

"We have been fighting YOUR war for a decade now, we have lost numerous lives of civilians, our jawans, even our schoolgoing children as well," wrote Farhan Bashir on Facebook. "Today you are saying this to cover up your failures in Afghanistan?" Some residents in the capital Islamabad said their country was being treated as a scapegoat after being dragged into the conflict following the US invasion of Afghanistan in 2001.

"All the worst things that we are facing is only because (we are) supporting the US in Afghanistan," said Ameer Hamza.
ISLAMABAD AFP Aug 23, 2017

Others suggested ditching the US alliance altogether and embracing China.