---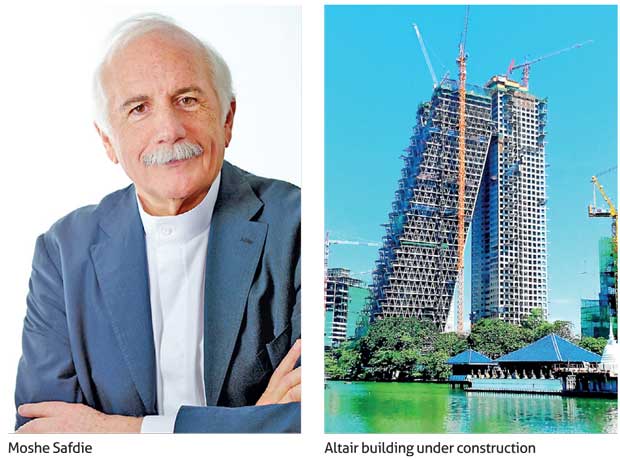 One of the world's most eminent architects, who has a unique association with Sri Lanka, will visit the country next week to grace the 35th annual sessions of the Sri Lanka Institute of Architects (SLIA).
Moshe Safdie, the man who designed Altair, the country's most distinctive and instantly recognized high-rise, will be one of seven speakers on the topic of 'Return of the City: Megastructure Redefined' at the BMICH on 15thFebruary.
While in Colombo, Safdie is expected to visit the site of Altair, now at its 48th level on the vertical tower and the 43rd on the sloping tower, and meet representatives of its promoter, Indocean Developers.
"The visit of Moshe Safdie is a milestone event for Altair and the 250 plus future tenants who have already purchased apartments, as well as for Sri Lanka's architectural fraternity," Altair Director Pradeep Moraes said. "The many inimitable structures he has created have made Mr Safdie a legendary figure around the world."
Author of four books and a frequent essayist and lecturer, Safdie has been recognised widely for his enduring influence on the built environment. Safdie Architects' projects can be found in North and South America, the Middle East, the developing world and throughout Asia and Australia, spanning a wide range of typologies, including airports, museums, performing arts, libraries, housing, mixed use and entire cities.
His honours include the Companion of the Order of Canada, the Gold Medal from both the Royal Architectural Institute of Canada and the American Institute of Architects, la Medaille du Merite from the Order of Architects of Quebec, Canada, and Israel's Rechter Prize. The Cooper Hewitt, Smithsonian Design Museum awarded Safdie the National Design Award for Lifetime Achievement in 2016. Moshe Safdie's body of work over 50 years includes Marina Bay Sands - the new icon of Singapore - the Kauffman Center for the Performing Arts in Kansas City - rated one of the 15 most spectacular concert halls of the world and 'Habitat 67' in Montreal, the project that first brought him
global recognition.
Other distinguishing architectural masterpieces designed by Safdie include the Crystal Bridges Museum of American Art in Arkansas, the Khalsa Heritage Centre in Punjab, the United States Institute of Peace in Washington DC, Lester B. Pearson International Airport, Toronto, and Yad Vashem Holocaust History Museum
in Jerusalem.
Current projects in construction include the new airport lifestyle complex, Jewel at Changi in Singapore, with the world's largest indoor waterfall; Raffles City Chongqing, a 10 million square foot mixed use project at the juncture of the city's two major rivers; El Centre Hospitalario Serena del Mar, a new hospital in Cartagena, Colombia as part of a new planned community; and the National Campus for the Archaeology of Israel in Jerusalem, an interactive museum and archive for the country's archaeological treasures.