---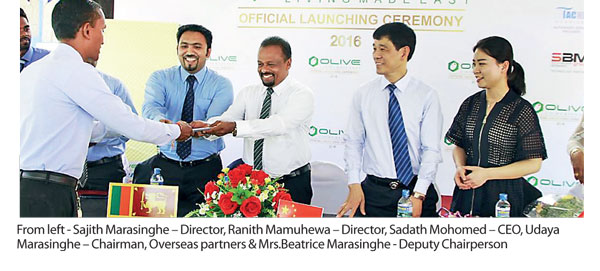 The best in class in water-pump offerings – 'Olive', has made a sweeping entrance into the Sri Lankan market since March 2016 – built upon technical expertise and technological superiority developed over 25 years by the Agrotac Group, the preferred original equipment manufacturer for major conglomerates in Sri Lanka.

As a specialized engineering group in the field of water supply, Agrotac has made its vision 'powering water for life' and contributed to the task of nation building through Sri Lankan engineering expertise, set to international standards.

Thus far, Agrotac has worked behind the scenes to ensure high quality as well as streamlined, efficient design in water pump offerings supplied to consumers previously through other market leaders who have retained Agrotac because of its focus on technological excellence and continuous improvement. Its unparalleled product excellence arises due to local adaptations and meticulous customisation.

As Agrotac now enters the market with its very own brand of water pumps – 'Olive' - these technological advancements have allowed the product to be priced at almost 30 percent less than market prices, without compromising on quality resulting in 'Olive'capturing over 20 percent of the market share in such a short time. Olive water pump products are offered across all three categories – domestic, industrial and agricultural applications, given the company's expertise in equipment manufacture.

The brand 'Olive' has already achieved the lion's share of the market due to the competitive advantages the manufacturer offers through lower costs and increased efficiencies. This has been the 'Olive' recipe for success - a high quality yet affordable product. Cutting out the middle man and engaging directly with the consumer, this experienced manufacturer now provides "Olive" at the most affordable price and a competitive edge over other offerings in the market.

Very low energy consumption – in fact, being one of the lowest, is one of Olive's key attributes. Its durability is also a main contributing factor – a very long lasting motor which has been built with copper status and uses 'MAC cooling technology' ensures this vital element of the motor runs with minimum breakdown or repair costs. This is complemented by a special, non-corrosive coating that increases durability of the product exponentially compared to other competitors in the market. What's more, the special non-corrosive coating also ensures that there is no contamination of water by rust – a real benefit to users in every application, be it domestic or industrial. Contributing to the product's quality and safety is the use of a food-grade standard, fully stainless-steel impeller and cold-lamination technology in its stator and rotor – the central part of a water pump. Hence it extends its functionality across numerous applications efficiently. Agrotac's guarantee of quality, durability and safety for any and all applications means that the 'Olive' is offered with a 5-year warranty – a mark of pride and stability for this experienced manufacturer of equipment.