---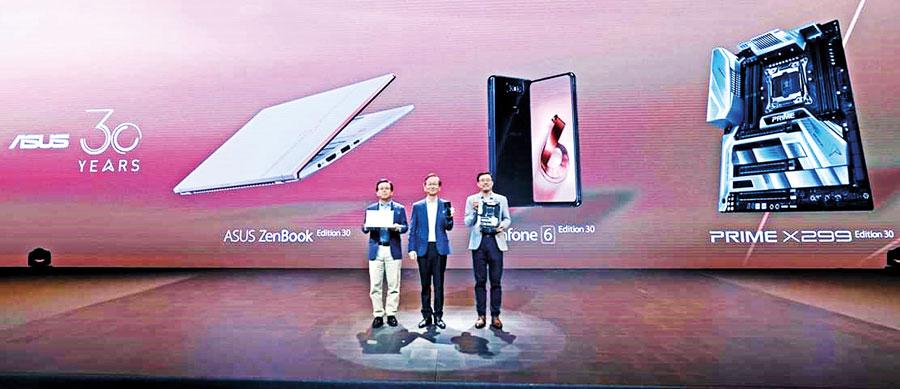 From left: ASUS Co-CEO S.Y. Hsu, ASUS Chairman Jonney Shih and ASUS CO-CEO Samson Hu with the newly launched ZenBook Edition 30 laptop, ZenFone 6 Edition 30 smartphone and Prime X299 Edition 30 motherboard, during the launch event at Next TV Studio, Thape, Thaiwan, on Computex Taipe 2019 eve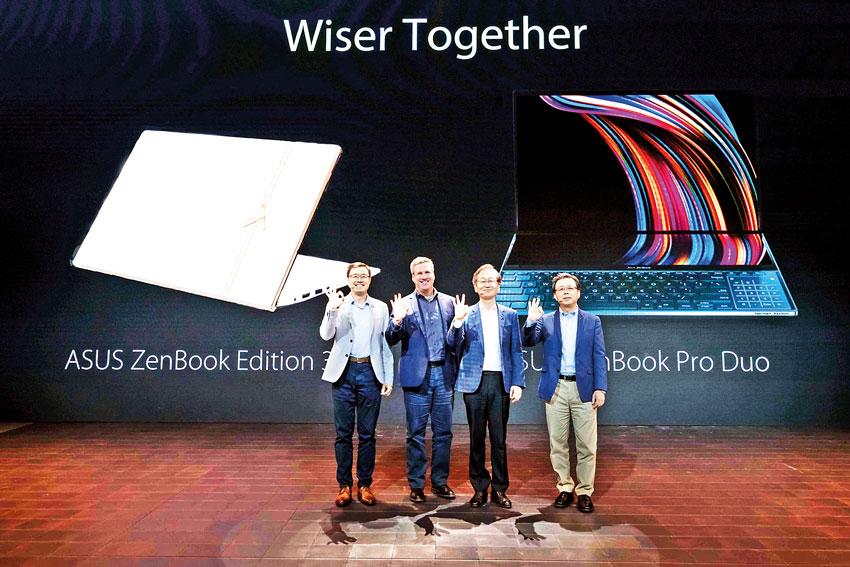 From left: ASUS CO-CEO Samson Hu, Intel Client Computing Vice President Chris Walker, ASUS Chairman Jonney Shih and ASUS Co-CEO S.Y. Hsu at the 'Wiser Together' event launching ASUS' 30th anniversary special-edition line up
By Chamindra Wickramasinghe in Taipei
Marking its 30th anniversary, ASUS, the Taiwan-based multinational computer hardware and consumer electronics company, unveiled a limited-edition device series, at the 'Wiser Together' special press event on Monday, in Taipei, Taiwan, coinciding with the world-leading tech expo, Computex Taipei 2019, which licked off in the
capital yesterday.

At the press launch event held at Next TV Studio, introducing the new products – the groundbreaking Prime Utopia concept motherboard, ZenBook Pro Duo and ZenBook Duo laptops and ZenScreen Touch portable monitor, ASUS Chairman Jonney Shih said, "ASUS is honoured to have been serving the hardcore tech community, enthusiast, gamers, creators and tasteful consumers for the last 30 years.

"I am tremendously excited and proud that we have stayed true to our relentless engineering origin on this incredible journey — one that has made us wiser and stronger together. We aspire to continue to create the most ubiquitous, intelligent, heartfelt and joyful smart life for everyone for
decades to come."

ASUS, dedicated to creating products for today's and tomorrow's smart life, is the world's number one motherboard and gaming brand as well as a top-three consumer notebook vendor.
At its inception in 1989, ASUS had revolutionised the motherboard industry with the creation of the company's first motherboard, which has established the path for ASUS to become the world's best-selling and most award-winning motherboard maker today.

The next-gen Prime Utopia concept motherboard launched at the event is a continuation of this legacy of ASUS innovation. It is a complete rethinking of motherboard design to meet the cooling and performance demands of future high-end processors, graphics cards and storage devices to offer system builders the most flexibility, ASUS said.

ASUS has also improved the experience for mobile creatives and professionals with the new ZenBook Pro Duo and ZenBook Duo ultraportable laptops featuring ScreenPad Plus, the next generation of the world's first intelligent touchpad, which offers a larger and full-width display, a more intuitive design, seamless viewing experience and improved multi-screen workflow to empower the ultimate creativity.

ZenBook Pro Duo features a 15.6-inch 4K UHD (3840 x 2160) OLED HDR display with a 14-inch 4K (3840 x 1100) ScreenPad Plus. It is powered by a high-performance, eight core Ninth Gen Intel Core i9 processor and NVIDIA GeForce RTX 2060 ray-tracing graphics. It also features the fastest port available on a PC with up to 40 Gbps Thunderbolt 3, plus NumberPad 2.0, Amazon Alexa voice control and a dedicated turbo-cooling button.

ZenBook Duo features a 14-inch FHD display with a 12.6-inch FHD ScreenPad Plus, the performance of a Ninth Gen Intel Core i7 processor and NVIDIA GeForce MX250 discrete graphics.

Both models feature Intel Wi-Fi 6 (802.11ax) with Gig+ to deliver networking speeds of up to 2.4 Gbps for rapid Internet connectivity.

Addressing the gathering on ASUS' long-standing partnership with Intel, Intel Client Computing Vice President Chris Walker said, "Intel and ASUS share a strong passion
for innovation.

We congratulate ASUS on their 30-year anniversary. In that time, our collaborations have brought to market devices that enrich the experiences of people around the world.

Today, ASUS is leveraging the desktop-calibre performance of Ninth Gen Intel Core mobile processors. The new, exciting ASUS ZenBook Pro Duo with the companion display, embodies the true meaning of pushing boundaries for PC function and design and is a great example of the innovation our collaboration enables."

The ASUS 30th anniversary special-edition line up features new versions of the ZenFone 6 Edition 30 smartphone, ZenBook Edition 30 laptop and Prime X299 Edition 30 motherboard, all featuring a special stylised 'A' monogram that signifies the ASUS values and history created by ASUS Design Centre. It is in celebration of the anniversary as well as the unique designs that embody the ASUS focus on refined aesthetics, outstanding performance and delivering exceptional
user experiences.

"The foundation of the 'A' monogram is a representation of the Chinese symbol for people and shows the humanitarian side of ASUS. The top part creates an arrow shape signifying the ASUS ability to overcome obstacles and ascend industry norms and the overall shape when flipped resembles a heart, which speaks to the heartfelt affection and endearment for life," the company said.

With a classic look, ASUS ZenBook Edition 30, another unique product introduced celebrating 30 years of ASUS innovation, features a luxurious design with a genuine leather lid cover and an 18-karat rose gold plated logo.

It is equipped with a complete set of premium accessories, including a Pearl White mouse, a leather-look box and mouse pad and a genuine-leather sleeve.

Being also the world's smallest 13-inch laptop, ASUS ZenBook Edition 30 features a 95 percent screen-to-body ratio, Eighth Gen Intel Core i7 processor and NVIDIA GeForce MX250 discrete graphics.

In addition to ScreenPad Plus, ASUS also announced that it is bringing ScreenPad 2.0 — an update to the revolutionary input device — to ZenBook 13/14/15, ZenBook Edition 30, ZenBook Flip 15 and VivoBook S14 and S15, to offer the creativity it empowers to more consumers.

ASUS also revealed ZenScreen Touch, a slim and light portable monitor designed for mobile productivity, creativity and entertainment. It weighs just 0.9 kg and is only 9 mm slim and features a 10 point touch screen that supports swipe, scroll, drag and pinch gestures, a built-in 7800mAh battery and rich connectivity with hybrid-signal USB-C and micro-HDMI ports.
The ASUS 30th anniversary special-edition line up also features new version of the ZenFone 6 Edition 30 smartphone. It is the first notchless ZenFone with innovative Flip Camera. ZenFone 6 Edition 30 comes with 12GB RAM and 512GB of internal storage giving a fast and smooth experience, offering owners the finest integration of art and technology.
Along with these products, a comprehensive line up of ASUS products are on display at the ASUS booth, at the Taipei Nangang Exhibition Centre, until June 1.

ASUS is known for the world's best motherboards, PCs, monitors, graphics cards and routers and is driven to become the most-admired innovative leading
technology enterprise.

With a global workforce that includes more than 5,000 research and development professionals, ASUS leads the industry through cutting-edge design and innovations made to create the most ubiquitous, intelligent, heartfelt and joyful smart life for everyone.

Inspired by the 'In Search of Incredible' brand spirit, ASUS is ranked as one of Forbes' Global 2000 Top Regarded Companies, Thomson Reuters' Top 100 Global Tech Leaders and Fortune's World's Most Admired Companies.