---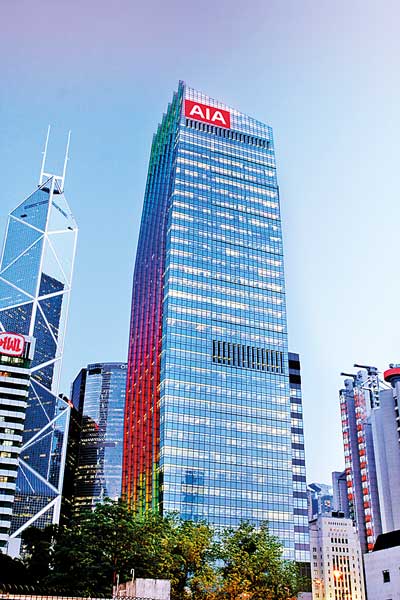 AIA Group Limited yesterday announced 44 per cent growth in value of new business (VONB) for the first quarter ended 29 February 2016. Mark Tucker, AIA's Group Chief Executive and President said: "AIA has made a very positive start to 2016 with excellent VONB growth of 44 per cent.
Our record first quarter VONB of US$578 million is the direct result of our resilient and highly-diversified business model, the quality of our operating performance and the continued execution of our strategy.
Our focus remains on executing our strategic priorities by increasing the reach and professionalism of our proprietary agency and partnership distribution channels, further expanding and improving our range of products and raising the quality of services that our customers receive. "AIA remains exceptionally well-positioned to benefit directly from the fundamental social, demographic and economic changes taking place in our region. We are deeply committed to helping millions of people around the region live longer, healthier lives and plan for a brighter future by meeting their substantial and growing savings and protection needs.
"Through the continued successful execution of our growth strategy and our commitment to building a sustainable business for the long term, we have delivered a very strong track record of year-on-year growth against a global backdrop of volatile capital and currency markets. We remain confident in the future prospects for AIA and the significant growth opportunities we have to provide attractive products and services to our customers and to generate sustainable value for our shareholders."
The Asia-Pacific region remains the most attractive and exciting market in the world for life insurance with the protection gap between the need for life and health insurance and the levels of cover in place continuing to widen. We remain confident that AIA's market-leading businesses, the quality of our proprietary distribution, our financial strength and the consistent execution of our strategy place us in an advantaged position to continue to build on AIA's long and successful history in the region and meet the substantial and growing protection and savings needs of our customers over the long term. AIA receives the vast majority of its premiums in local currencies and we closely match our local assets and liabilities to minimise the economic effects of foreign exchange movements. When reporting the Group's consolidated figures, there is a currency translation effect as we report in US dollars.
We have provided growth rates and commentaries on constant exchange rates unless otherwise stated, since this provides a clearer picture of the year-onyear performance of the underlying businesses during the recent period of foreign exchange volatility. AIA Group Limited and its subsidiaries (collectively "AIA" or the "Group") comprise the largest independent publicly listed pan-Asian life insurance group. It has a presence in 18 markets in AsiaPacific – wholly-owned branches and subsidiaries in Hong Kong, Thailand, Singapore, Malaysia, China, Korea, the Philippines, Australia, Indonesia, Taiwan, Vietnam, New Zealand, Macau, Brunei, a 97 per cent subsidiary in Sri Lanka, a 26 per cent joint venture in In