---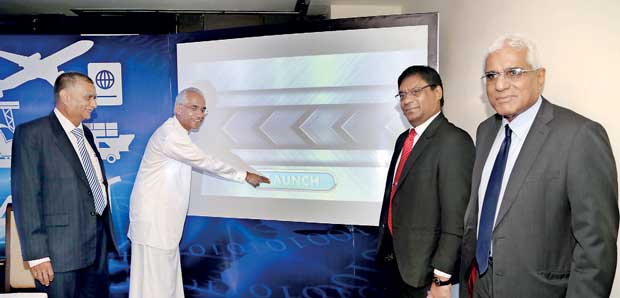 Finance State Minister Eran Wickramaratne launching the SL Customs online payment platform. Others in the photo from left: LankaClear Chairman Anil Amarasuriya, SL Customs DG Chulananda Perera and Central Bank Governor Dr. Indrajit Coomaraswamy
By Shabiya Ali Ahlam
Sri Lanka Customs yesterday moved a step forward and became a fully-automated agency with the much-anticipated online payment platform going live.

The online platform, which has been formulated through a partnership between SL Customs and the Central Bank of Sri Lanka (CBSL), essentially aims at streamlining processes that were previously time-consuming and costly.

The implementation would increase the convenience factor for customers while reducing transaction costs and boosting competitiveness.

According to Customs officials one of the primary objectives was to reduce revenue leakages, an issue the department has been grappling with over the years.
Implemented by Sri Lanka's largest payment infrastructure provider LankaClear under the brand, LankaPay Online Payment Platform (LPOPP), the new system went live immediately with the participation of nine banks; Bank of Ceylon (BOC), Sampath Bank and Commercial Bank, Cargills Bank, Seylan Bank, Amana Bank, Peoples Bank, Public Bank, Hatton National Bank (HNB) and NDB.

Several other banks are also expected to join the system in the coming few weeks with the certification process of the platform.

LPOPP has been designed to communicate with SL Custom's ASYCUDA system on one side while the same payment platform will also be the front end for the participating Banks of LankaClear's Common Electronic Fund Transfer Switch (CEFTS) to liaise with SL Customs.

Exporters and importers will be able to directly connect to their respective bank via any channel connected to CEFTS (Internet, mobile, ATM or over the counter) to make the required payment to Customs. The payments will be credited in real-time on 24 X 7 basis using CEFTS to the designated SL Custom's bank accounts at Bank of Ceylon or People's Bank.

The LankaClear system would provide SL Customs with the required payment confirmation details in real-time. The settlement of the payment between the two state banks and other commercial banks would be via Central Bank's Real Time Gross Settlement System (RTGS).

Addressing the launch event that was held in Colombo yesterday, Central Bank Governor Dr. Indrajit Coomaraswamy assured the system operated by LankaClear will function under the guidance and supervision of the Central Bank. It is also fully governed by the Payment and Settlements Act and related regulations, thereby contributing to the financial sector stability of the country.

"The Central Bank is tasked with ensuring that the platform is governed by a proper governance model. The system streamlines the government's tax collection process and is another step in promoting the digital economy concept of the government," said Dr. Coomaraswamy.

Meanwhile, while commending the speedy implementation of the project that was stalled for months, State Minister of Finance Eran Wickramaratne said plans were afoot in having more government agencies automated.

He added that efforts are being taken to ensure all taxes are being paid and a fully-fledged ICT platform would help increase transparency, reduce corruption and shed light on any prevailing gaps.