---
New investments in hotel sector amounts to US $ 2.8bn
Addition of nearly 17,000 star-class rooms in next 3 years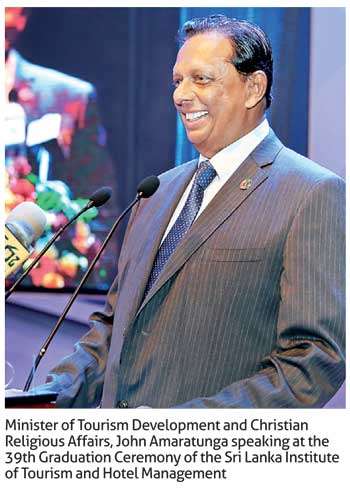 New investments in the hotel sector amounting to US $ 2.8 billion will require thousands of newly trained workers in the next couple of years. This was revealed by Minister of Tourism Development and Christian Religious Affairs, John Amaratunga at the 39th Graduation Ceremony of the Sri Lanka Institute of Tourism and Hotel Management (SLITHM) which was held at the BMICH this week.

A total of 90 graduates received their management diplomas on the occasion. The Chief Guest at the ceremony was Minister John Amaratunga while the Guest of Honour was Jetwing Hotels Chairman Hiran Cooray.

"The total investment value of new hotel projects is estimated at US $ 2.8 billion. Needless to say these investments have put a lot of pressure on SLITHM to deliver thousands of new workers at craft, supervisory and management levels. I'm happy to note that SLITHM has risen to the challenge by producing the required numbers," he said.

SLITHM, previously known as the Ceylon Hotel School and School of Tourism, is Sri Lanka's pioneer hospitality and tourism training provider. It was established by the Government of Sri Lanka in 1966 by an Act of Parliament in collaboration with the International Labour Organization (ILO).

Its main purpose is to train young men and women in the tourism and hospitality field. SLITHM presently operates under the purview of the Ministry of Tourism Development & Christian Religious Affairs and trains over 6000 individuals in different aspects of the hospitality industry each year.

Speaking at the ceremony Minister Amaratunga drew attention to the need for trained hoteliers. "Sri Lanka's rapidly growing tourism industry will see the addition of nearly 17,000 star-class rooms in the next three years. We need over 100, 000 new workers to serve in these hotels.

The total number of SLTDA registered accommodation establishments as at 31st March 2018 was 2,131. Out of this the number of classified tourist hotels was 141 and among them, 20 were five-star hotels," he noted.

"Today the total registered room inventory stands at 36,133 with classified tourist hotels in the 1 to 5 star categories having the highest inventory of 12,828 rooms. Meanwhile 316 new hotel projects have been granted final approval while 113 are under construction and 161 are in operation. The number of rooms for which final approval has been granted stands at 17, 991," explained Minister Amaratunga.

He also spoke about the large number of hotels opening up in Colombo. "So many hotels are opening up in the city that we may actually have to consider limiting new hotels from coming up in the future. Investors will be encouraged to open hotels away from the city," he said.

Guest of Honour, Chairman, Jetwing Hotels, Hiran Cooray made a passionate plea to stop the over promotion of tourism sites that leads to over visitation and subsequent sustainability issues. He singled out Yala and Sigiriya as examples of this and called on the industry to focus on promoting less visited areas.

He highlighted Jetwing's investment in Wellawaya as an example of taking tourism to untapped areas. He noted that responsible tourism was the key to sustainability of the industry which whether promoted or not will continue to grow in the future.

In his address SLITHM Chairman Sunil Dissanayake focused on SLITHM's rich history of innovation, growth and change.
"Inaugurated in 1966, today we have earned local and global recognition as the premier institute for hospitality and tourism management education in Sri Lanka and the region. It has produced leaders for employment in the industry not only nationally but also internationally. We have been the backbone of the hospitality industry of Sri Lanka from its infancy, producing the required professional human resources for the hospitality industry."

Dissanayake also spoke about the immediate requirements of the industry.

"With the hospitality industry estimating nearly 110,000 new direct employees by 2020 to serve Sri Lanka's growing visitor base, last year alone 5485 students of SLITHM joined the industry of which 88 were graduates. This year the planned output is 7240 of whom 90 are graduates. All of them have already found employment in the industry," he said.

"To cater to the industry manpower requirements we have expanded our reach by establishing new colleges to attract young students into the industry and train unemployed youth in rural and suburban areas. We have launched a structured public awareness programme for career choices. This is to develop our supply chain to create interest among school leavers to join the hospitality and tourism industries," Dissanayake further explained.

A significant feature of the ceremony was the official launch of the school anthem, 52 years after it began operations. The new anthem was well received by the audience.

Director General, SLITHM, Buddhika Hewawasam spoke on the importance of international certification.

"With growing demand for high quality human resources in tourism and hospitality, SLITHM has identified the need to obtain international certification. We have set benchmarks for all hotel training institutes by specifying international standards and we will strive for excellence while continuously upgrading ourselves. Our aim is to stand out as a centre of excellence in the region and one that produces hoteliers who have the potential to excel in the global tourism industry," said Hewawasam.
Meanwhile the top two awards for graduation year 2017, namely the Ceylon Hotel School Graduates Association Trophy for the Most Outstanding Student in the Three Year Management Diploma was presented to Ms. P.S.V. Senasinghe, while the Ceylon Hotel School Graduates' Association Trophy for the Most Outstanding Graduate was awarded to Ms. B. Rengaswamy.