---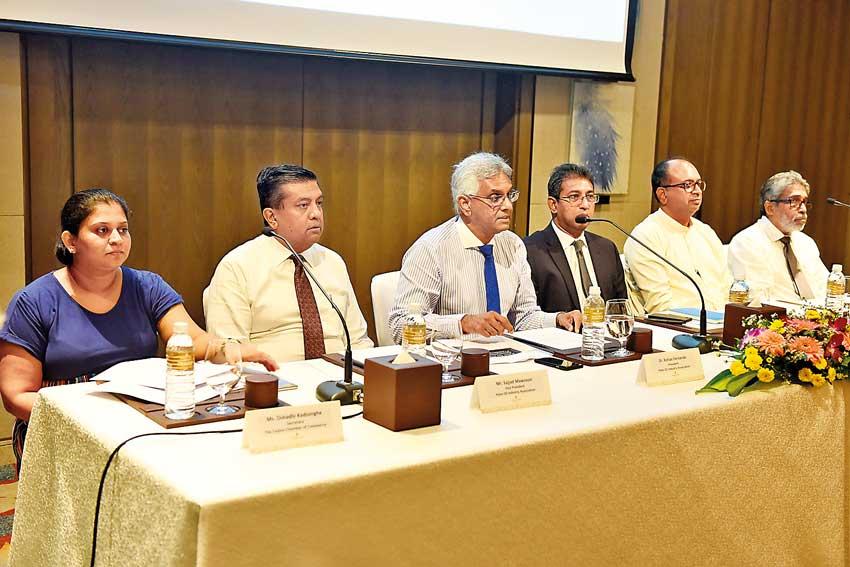 From left: Palm Oil Industry Association Secretary Oshadhi Kodisinghe, Palm Oil Industry Association Vice President Sajjad Mawzoon, Palm Oil Industry Association President Dr. Rohan Fernando, Economic Reforms and Public Distribution Non-Cabinet Minister Dr. Harsha De Silva and Palm Oil Industry Association Vice President Vish Govindasamy
Pix by Nisal Baduge
President Maithripala Sirisena is yet to provide an opportunity for the country's palm oil planters to present their case, despite several attempts been made to have a one-on-one meeting with the president.

"We have tried our utmost to meet President Sirisena, who is the only person I believe can give us a remedy for this. Unfortunately, our efforts have not been successful but we are still hopeful that he will grant us an opportunity," Palm Oil Industry Association President Dr. Rohan Fernando said.

He warned that over Rs.400 million worth of oil palm seedlings at their nurseries are in urgent need of being planted, which would otherwise risk going into waste.

Although the previous regime permitted Regional Plantation Companies (RPCs) to plant oil palm in an area of 20,000 hectares, a recent draft research report published by the Central Environmental Authority (CEA), which according to the RPCs, is "one-sided and unscientific", recommended halting all oil palm planting in Sri Lanka. Following the release of the draft report, Dr. Fernando said that vested interested parties, who claim as environmental activists, intensified the protests against plantations forcing to halt planting
oil palm.
The RPCs have already planted oil palm in an area of 10,000-11,000 hectares.

However, Dr. Fernando said the CEA chairman in writing assured the association that he would secure President Sirisena's approval to continue planting oil palm.

"We approached the CEA chairman who promised to speak to the president and get an approval at least to plant the palm oil plants that are already in our nurseries. Unfortunately, nothing has happened," he said.

The association also requested the Mahaweli and Environment Ministry to appoint a committee with wide stakeholder representation to conduct a scientific assessment on the environmental impacts of palm oil plantation in Sri Lanka, which is yet to be carried out.

Dr. Fernando warned that the country risks losing several investments into the oil palm industry, which would have further reduced the reliance on palm oil imports, saving foreign exchanges to the country.

The cumulative value of Sri Lanka's oil palm industry is estimated at Rs.26 billion.
---
Harsha draws parallels between palm oil industry woes and issues faced by Suwaseriya
Certain vested interest parties in Sri Lanka never hesitate to launch misinformation campaigns to block initiatives, which could potentially be life-saving services to the public, a minister who had to fight such parties told a gathering in Colombo, yesterday.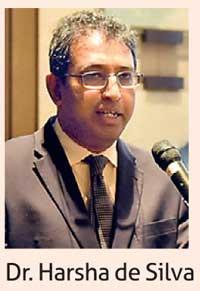 "The vested interests in this country are so strong that they even protest against life-saving services. When I tried to launch the '1990 Suwaseriya' ambulance service, I was attacked mercilessly. I was thrown buckets of mud with personal attacks.

The doctors protested and went on strike demanding not to bring ambulances to their hospitals while threatening that they would not take any patient brought to them by these ambulances, Economic Reforms and Public Distribution Non-Cabinet Minister Dr. Harsha de Silva said.

He made these remarks addressing the first annual general meeting of the Palm Oil Industry Association in Colombo, yesterday.
Dr. de Silva noted that the local palm oil industry is facing similar challenges from certain vested interest parties against palm oil cultivation in Sri Lanka.
Amid protests, largely led by vested interest parties, planting oil palm by the Regional Plantation Companies (RPCs) has come to a grinding halt, despite the state approval to plant oil palm in 20,000 hectare area in 2014.

Sharing how he overcame such misinformation campaigns launched by the vested interest parties, Dr. de Silva recalled that the experience was crucial in changing the public perception on the 1990 Suwaseriya ambulance service.

As the people got to understand the benefits of Suwaseriya, he noted that they embraced it as a life-saving service.

"As of today, we take about 750 people to critical and emergency care every single day and it saves 10 percent of those lives. According to a recent survey, 97 percent of the people have stated that the 1990 Suwaseriya ambulance service is the most important government service," he added.

Dr. de Silva pointed out some of these vested interest parties were so much politically deranged.

"Either they didn't know of the existence of external automatic defibrillators in the Suwaseriya project or they chose not to know of those things," he said.

Similarly, he noted that when the Sri Lanka-Singapore Free Trade Agreement was signed, misinformation campaigns were launched by certain vested interest parties, highlighting that Singaporeans would take over jobs from Sri Lankans. At present, he pointed out that false information is being circulated on the US $ 480 million Millenium Challenge Corporation (MCC) Compact, misleading the public that it would create a corridor dividing the country.

"It's something about our society; they say no to change. If you go to prison or hell and try to get out of it, some fellow will pull you from your leg back to the same hellhole that we are in," he said.

He pointed out that the people who profit from the existing system resist change while the parties would gain from the change also don't come fully supportive of the change as they fear the risks.

Therefore, he stressed that there's a leadership vacuum to drive the change in Sri Lanka.

Dr. de Silva advised the Palm Oil Industry Association to focus on an evidence-based and multi-stakeholder approach to resolve their issues.