---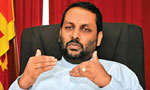 Presenting an interesting political theory, Disaster Management Minister Mahinda Amaraweera yesterday said voters must not topple this government as chances are minimum for corruption among UPFA members as they may have amassed ill lucre enough by now and if the UNP came to power, they would start afresh to make a killing.
Responding to a journalist at yesterday's media briefing at the SLFP head office, Minister Amaraweera admitted that there may be corruption and irregularities in the UPFA government but the voters must not make it a reason to topple this regime.
"Yes, there may be corruption in the government. But look what will happen if you voted against this government and bring the UNP back to power. Members of the UNP like Ravi and Daya are hungry to grab power and they will start to amass money afresh. This is not good for the country. The UPFA members do not want to earn further," he stressed.
He said the UPFA government's target was to make Sri Lanka the most developed country in South Asia by 2016 and increased the food production sharply, farmers' income and the GDP. Therefore, no one wants to replace President Mahinda Rajapaksa with another.
Foreign Employment Promotion and Welfare Minister Dilan Perera said the Opposition slogan to abolish executive presidency was out dated and the priority of the people was to introduce electoral reforms.
"The government appointed a Parliamentary Select Committee (PSC) to make recommendation for the national issue and constitutional reform as it has to be done through the legislature, not by the President. But the support for this exercise was not extended by the Opposition, mainly the UNP, TNA and the JVP. Therefore, it is unfair to blame the President for the failure to abolish the executive presidency," he stressed.
Deputy Finance Minister, Dr. Sarath Amunugama said the sharp drop of oil prices in the global market has helped increase foreign reserves of Sri Lanka and reduce the fuel bill.
"The US reduced the fuel prices in the international market to revenge Russia and Venezuela. This decision, though politically motivated has helped immensely to countries like Sri Lanka. It will also affect positively to our economic performance this year," Dr. Amunugama stressed.
All three ministers vowed that there will be no more defections from the government to the opposition.
Mohamed Muzammil of the National Freedom Front said the Global Tamil Forum, the Tamil Diaspora and the West want a regime change in Sri Lanka because President Rajapaksa is not a scarecrow of them. They want to bring to power someone who dances to their tune and bring war crime charges against President Rajapaksa.(Sandun A Jayaekera)