---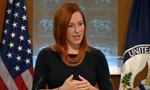 The US government has welcomed the release of Balendran Jayakumari by the Sri Lanka's new government.
State Department spokeswoman Jen Psaki Thursday said that Jeyakumari was among eight detainees freed this week. She has been released on bail pending trial.
"We understand Ms. Jeyakumari has been released on bail pending trial, and we encourage the Government of Sri Lanka to afford the individuals and all detainees due process of law."
"We applaud this positive step and encourage the government to continue its efforts to ensure human rights and fundamental freedoms for all Sri Lankans," Psaki said.
Jeyakumari was arrested last March, accused of sheltering a man trying to revive the LTTE.