---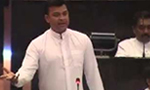 Speaker Chamal Rajapaksa today cautioned United National Party (UNP) MP Ranjan Ramanayake to conduct himself with patience and dignity in Parliament.
The Speaker made this remark when Mr. Ramanayake was delivering an impassioned speech on the plight of Sri Lankan women in the Middle East and in Saudi Arabia in particular. He said fathers were trading their daughters and husbands their wives in certain cases to earn money.
"Most of these hapless women end up in slavery in the Arab world," Mr. Ramanayake said.
During the speech, he used some un-parliamentary words which prompted the Speaker to caution him.(KB & YP)