---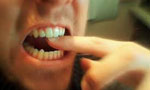 A 29-year-old Sri Lankan worker allegedly bit his roommate's finger during a heated argument and caused him six per cent permanent disability, the Dubai Criminal Court heard.
According to the records, on June 28, the accused was consuming alcohol in his room when a dispute broke out between him and the victim who was a Pakistani driver.
"A dispute broke between us and then he rushed towards me and bit my right hand's index finger," the victim told investigators without mentioning what the dispute was about.
Criminal Evidences reported that the driver sustained six per cent permanent disability in his finger.
The accused admitted to assaulting his roommate but claimed that he did not mean to do that. He also confessed to consuming alcohol illegally.
The court will issue its verdict on November 24.