---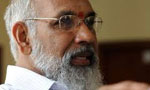 Visiting Sri Lankan Northern Province Chief Minister C V Wigneswaran today said India should take steps for sending back the about one lakh Tamil refugees in Tamil Nadu to counter the island government's "efforts" to push the ethnic community into a further minority.
"India should take efforts to send back more than a lakh refugees who are now staying in camps in Tamil Nadu with sufficient rehabilitation measures in Sri Lanka. It would increase the Tamil electorate in the island and counter the Lankan Government's efforts to make us further minority there," he told reporters here.
Recalling the m eeting with Prime Minister Narendra Modi some months ago, Tamil-Lankan MP Senthiraj said, "He said that he was with us. So, we are confident about the Indian Government. There can be no change in Lanka without India's interference and that was evident with the conduct of elections in the Northern Province last year."
Answering a query on the campaign in Tamil Nadu over the Sri Lankan Tamils' issue, Wigneswaran said he understood that the Tamils living in the state were being affectionate towards their "brothers and sisters in Lanka" and their efforts to bring about a change in the Island should not be seen as a move aimed at political gains.
Another Lankan Tamil MP Sumanthiran, who also accompanied Wigneswaran, said their central government was systematically displacing Tamils from their native lands so as to bring down their influence in terms of an electorate.
Stating that according to a study a majority of refugees wished to remain in India, he, however, said "concrete measures" to provide a good life would help their return.
Elaborating on the role Tamil-populated Northern Province wants India to play, he said, "India should push for a change in the Lankan Constitution, which would protect the interests of Tamils living in the united Sri Lanka but not in a unitary framework."
Northern Province Health Minister Sathyalingam, who was also present, said there were specific needs for the Tamils left in the province after the war against LTTE in 2009.
"After the war, there are over a lakh widows, some 19,000 physically challenged persons and thousands of rehabilitated soldiers. They don't have a livelihood, since they are often being displaced," he said, adding these people had also been affected by the war 'physically and mentally'.
Wigneswaran said there were "parallel administrative units" presently in his province.
"One unit is operated by Governor with the help of Chief Secretary which is in line with the central government in Colombo and another unit is us. We are working amongst us without any co-ordination from the central government," he said.
Pressing that India should come to their aid since it had signed the agreement with the Lankan leadership on their behalf in the 80s, the Lankan Tamil leaders said the 13th Amendment was being tinkered.
"More than the 13th amendment, we need a change in the Lankan Constitution. 13 plus plus is something that the Lankan government promised India but did not implement. We want at least the Lankan Government's promise to be implemented," Wigneswaran said. (Press Trust Of India)