---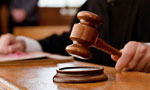 The Chief Operating Officer of the Reconstruction and Development Agency (RADA) Saliya Wickramasooriya and four other suspects were further remanded till June 15, by the Colombo Fort Magistrate today in connection with alleged fraud that took place at RADA in 2006.
President's Counsel Anil De Silva appearing for Mr. Wickramasooriya submitted that Police SIU did not arrest the main suspect Tiran Allas in connection with the incident and they allowed him to file an FR petition in the Supreme Court.
He also alleged that Police investigations were not conducted in a transparent manner and it only targeted public officers.
(Lakmal Sooriyagoda)