---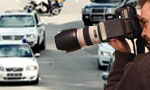 A retired Lieutenant of the Navy was arrested for photographing the Air Force Commander Gagan Bulathsinghala when he was travelling in his vehicle convoy.
Police said the security personnel of the Commander had spotted the suspect taking a picture near Thurston College when he was on his way to the Air Force Headquarter.
The suspect was later released on bail.