---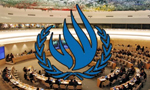 The UN Human Rights Committee while expressing concern over the implementation of the 18th amendment has called upon the government to repeal 18A in their concluding observations on the fifth periodic report of Sri Lanka.

In the concluding observations of its review of Sri Lanka's human rights record which was released yesterday, the UN Human Rights Committee had listed the implementation of 18A as a principle matter of concern. The Committee had furthermore expressed concern at the impeachment of the former Chief Justice in 2013 while calling on the government to take legislative and other measures to ensure transparent and impartial processes for appointments to the judiciary and other independent bodies.

It had also called upon the government of Sri Lanka to take effective measures to ensure the protection of members of the judiciary from improper influence, inducements, pressures, threats or interferences including those of the executive or legislature.

The Human Rights Committee has also noted with concern, the existence of the Prevention of Terrorism Act and the restrictions imposed on the freedom of expression and association, arbitrary searches and arrests and prolonged detention without charge or trial. It had also noted the reports of arbitrary surveillance, torture, detention, enforced disappearances and sexual violence against former combatants while urging the government to ensure that they are provided with effective protection against human rights violations including sexual violence, through the effective application of procedural safeguards and prosecution and punishment of the perpetrators of such violations.
Among the other issues listed as matters of concern by the UN Human Rights Committee in its review of Sri Lanka's periodic report were rights of persons belonging to minorities, freedom of expression and participation in political processes, freedom of assembly and association, violence against women, counter-terrorism, enforced disappearances, non-discrimination, trafficking of persons and detention. It had also expressed concern over the limited territorial scope of the mandate of the Presidential Commission investigating into missing persons and the slow rate at which such cases have been investigated and prosecuted.

Sri Lanka's human rights record was reviewed by the UN Human Rights Committee for the fifth time on October 7 and 8 during which a range of issues were discussed between the Committee members and the Sri Lankan delegation. During the reviewing, Sri Lanka's Permanent Representative to Geneva, Ravinatha Aryasinha urged the Human Rights Committee to judge Sri Lanka in proportion to the challenges it has continued to face as a country emerging from a 30 year terrorist conflict and to recognize the measures implemented by the government to speedily return normalcy to those living in the former conflict zones notwithstanding security concerns. (Lakna Paranamanna)