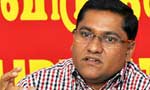 The Janatha Vimukthi Peramuna (JVP) said yesterday a draft constitution prepared by the Constitutional Assembly should be first placed before the people so that they could comment on the proposals before proceeding with a referendum.
JVP Propaganda Secretary and MP Vijitha Herath told a media briefing held at party headquarters in Battaramulla that requesting people to submit their own proposals for the new Constitution would be futile.
He said if the government took action to place a copy of the draft constitution before the people they would have an opportunity to study the proposals, criticize them or suggest alternatiives.
However, Mr. Herath urged the government not to try to cover up the burning problems faced by the people through the new constitution adding that the main reason for the problems that have cropped up in the country was not the constitution.
Referring to the statement made by Mahajana Eksath Peramuna (MEP) MP Dinesh Gunawardane that Articles of the 1978 Constitution, including those on upholding the Unitary State of the country and giving foremost place to Buddhism appears to have been omitted from the new Constitution, he said Mr. Gunawardane was trying to create unnecessary problems which did not exist.
"The draft constitution has not yet been issued. MP Gunawardane is talking about the document given to the MPs and it is not finalized. He is aware of this and I think he is just trying to rouse up unnecessary turmoil," he said.
Mr. Herath also slammed the government for attempting to create another jumbo cabinet exceeding the promised number of 30 ministers.
He said nepotism was continuing in the foreign missions to which a number of United National Party (UNP) Central Committee members had been appointed.
(Piyumi Fonseka)