---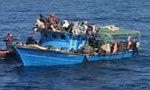 At least 35 people were taken into custody this morning by the Police Marine Division at Weligama in Matara on charges ofillegal migration.
Police said the suspects were residents of Jaffna, Kilinochchi, Vavuniya, Mankulam and Oddusudanand were arrested while climbing into a trawler. They were later brought to the Mirissa Harbour.
Police said they had recovered dry rations and medicine which were inside the trawler.
The suspects will be produced in the Magistrate'sCourt today while theMatara Police are conducting investigations.
(Darshana Sanjeewa)