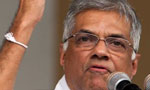 Indicating the general election would be delayed, Prime Minister Ranil Wickremesinge yesterday said the new Parliament will meet for the first time in September this year.
Mr. Wickremasinghe said this to his chief of staff Sagala Ratnayake and State Minister for Youth Niroshan Perera while enjoying sweetmeats at a 'Gami Gedara' at a New Year festival in Deniyaya last morning.
Making an official speech at the festival, the Prime Minister said he has had a dialogue with President Maithripala Sirisena and both have agreed to establish a new Parliament by holding the general election.
He said all political parties will be invited to the Cabinet of the new government that will be formed after the next election.
He said industrial zones will be set up in every province shortly. He said youth will be given access to new technology.
However, the Prime minister said the local tea industry is facing a challenging situation and this should be arrested. He made this point in Bandarawela as well on Saturday.
He said the tea small holders are facing the biggest challenge. He therefore stressed the need for value addition for tea.
(Yohan Perera and Krishan Jeewaka Jayaruk)