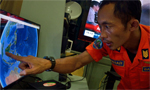 Indonesia's top rescue official says authorities believe the missing AirAsia jet is likely at the bottom of the sea, based on radar data from the plane's last contact.
"(Because) the coordinate that was given to us and the evolution from the calculation point of the flight track is at sea, our early conjecture is that the plane is in the bottom of the sea," Marsdya Tni Hendry Bambang, head of Indonesia's national search and rescue agency, told reporters Monday.
But searchers still don't know where the plane is, he said, and may need help from other countries for help with an underwater search.
The search for AirAsia Flight QZ8501 resumed on Monday, a day after the commercial jet disappeared in Indonesian airspace with 162 people aboard.
Ships, planes and helicopters are looking for the missing aircraft, Indonesian authorities said.
It's unclear if weather played a role in the aircraft's disappearance, but rescuers say it could be a factor that influences how quickly they find the plane.
Large waves and clouds hampered the search for the plane on Sunday, the agency said. By Monday morning, weather in the area appeared to be clearing up, CNN International meteorologist Tom Sater said.
Authorities say they're combing a "very broad search area."
AirAsia says air traffic controllers lost contact with the aircraft at 7:24 a.m. Sunday Singapore time (6:24 a.m. in Indonesia).
The missing plane, flying from the Indonesian city of Surabaya to Singapore, went missing as it flew over the Java Sea between the islands of Belitung and Borneo -- a heavily traveled shipping channel with shallow waters, according to Indonesian authorities, who are leading the search and rescue operations.
Before the plane lost contact with air traffic controllers, one of the pilots asked to fly at a higher altitude because of bad weather, officials said.
(CNN)