---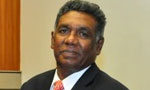 Sri Lanka's maritime and aviation aspects had become key pillars of economic development due to the peaceful environment after the conflict, Defence Secretary Karunasena Hettiarachchi said today.
Delivering keynote address at the Air Symposium 2015 organised by the Sri Lanka Air Force, Mr. Hettiarachchi said both the maritime and aviation industry in the country had been critically threatened by terrorism during the 30 years conflict.
"Sri Lanka was relieved from the terrorism and under this background that Sri Lanka is required to focus on ensuring safe and secure maritime and aviation environment to exploit and gain their advantages to the fullest extent for building the nation in the 21st century," he said.
He said the post-war Sri Lanka was enjoying peaceful seas and skies and it is more friendly and healthy for all operators than it was six years ago.
(
Darshana Sanjeewa)