---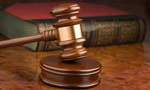 Thirty one ex-LTTE detainees were released by Colombo Chief Magistrate Gihan Pilapitiya today on strict bail conditions following the approval of the Attorney General's Department.
The inmates were re-remanded till November 24 this morning pending approval from the AGs Department. However, Counsel appearing for the AG stated they were unaware the case would be taken up this morning. Thereafter the Department had instructed the detainees be released.
The Magistrate had annulled the order to re-remand the inmates till November 24 and released them on two sureties of Rs. 1 million each with strict bail condition. The case will be taken up again on January 27.