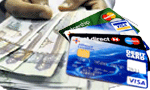 A 32-year-old Sri Lankan man was arrested at the Bandaranaike International Airport (BIA), while attempting to smuggle out foreign currency worth more than one million Rupees and 109 ATM cards yesterday evening.
Customs Spokesman Leslie Gamini said the suspect was arrested by the BIA Customs officials at the Departure Lounge, while attempting to smuggle out them to Dubai.
The suspect is a resident of Kalmunai.
"He had currency bills to the value of 25,770 Dirhams (Rs. 1,019,203) along with 109 ATM cards with their PIN numbers in his possession, belonging to several persons," he said.
"According to the Banking Act ATM cards are non-transferable. The suspect must have got those cards with the promise of crediting the money to their accounts later," he said.
The foreign currency and the cards were forfeited and the suspect was imposed a penalty of Rs. 1,000,000.
Later the Customs handed over the suspect and the cards to the Criminal Investigations Division (CID) for further investigation, he said.
"With this raid, there were 40 foreign currency smuggling incidents were detected by the BIA Customs Department and about Rs. 309 million worth foreign currency were confiscated during this year," Gamini said.
Foreign currency smuggling has taken a new trend with bank cards, he said.
"During the previous 39 foreign currency raid cases the suspects attempted to smuggle out foreign currency notes. But the trend is now taking the money out in the form of credit or debit cards," Mr. Gamini said.
Investigations are carried out by Assistant Superintendent JWKG Prasanjith, Ajith Ilesinghe, Asanka Priyadharshana, Volly Chandradada, Udaya Kulasooriya, Mahesh Hettigamage and Mrs.Romani Sledges.
The Customs inquiry was held by Customs Deputy Director Kumudu Meegahage.
(Chaturanga Pradeep)