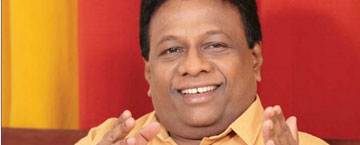 The joint opposition said that it would introduce a no-confidence motion against Finance Minister Ravi Karunanayake for misleading the president, parliament and the people by manipulating figures to show that 6% of GNP had been allocated for education.
UPFA MP Dullas Alahapperuma said the minister had, for the first time, brought the finance ministry and parliament into disrepute.
"The finance minister has told a big lie by saying 6% has been allocated for education, by manipulating figures. This has resulted in the people losing confidence in the budget," he said.
Mr. Alahapperuma said at a media briefing that they would decide on the no-confidence motion against Mr. Karunanayake at a meeting of the Joint Opposition last evening.
MP Bandula Gunawardana said this was the first budget that hoodwinked the people by manipulating figures to mislead them.
Mr.Gunawardana said they had informed the president about the shortcomings of the budget at a meeting yesterday.
He said the president had assured them that he would discuss the matter with the prime minister and the finance minister after his trip to Malta.
"The president assured us that he would allow us to act independently during the budget vote. This is an insult to the university academics and scholars," he said.
Leaders of the Joint Opposition -- Tissa Vitharana, Vasudeva Nanayakkara and Udaya Gammanpila -- and several others were present at the briefing. (Ajith Siriwardana)