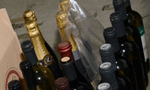 Customs officials today seized a 40-foot container with liquor bottles, pasta and two swords, imported abusing a duty free concession granted to migrant workers, Customs Spokesman Leslie Gamini said.
"Seventy eight liquor bottles, 37 wine bottles, 5000 kilograms of pasta and two swords, valued at Rs. 684,750 in total were seized," he said.
The container arrived on May 21 from Trieste, Italy and was detained by the Customs Revenue Task Force at RCT, Orugodawatta.
"It has been declared as tax free import under a concession given to migrant workers by the government," he said.
"The goods were declared as personal effects of five passengers from Chilaw under passenger baggage allowances," Gamini said.
"The two swords are valued Rs.10, 000 each and it should have Ministry of Defence approval," Mr. Gamini said.
"The Customs would have lost Rs. 1,133,716 in duties had container was allowed in," he said.
He said that the owners had been informed about the detection and that the Customs would take legal actions against them.
(Chaturanga Pradeep)
Video by Chaturanga Pradeep