---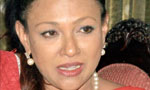 The opening of the technological science centre of Ananda Madhya Maha Vidyalaya, Elpitiya, which was built at a cost of Rs nine million, was held yesterday under the patronage of Mass Media Minister Gayantha Karunatilleke. Southern Provincial Council member Geetha Kumarasinghe had attended the function and made a speech, though she had not been invited to do so.
The speech made by her had aroused much curiosity among those present..
She referred to the principal's attitude in not inviting her to speak. She said that with fleas infesting those who come to power she was now fed up with being in politics. "Today it was made clear to me what politics is. It is like the fleas who cling to animals. Whoever comes to power they go and cling to their bodies. This has made me sick of politics," she said.
In her uninvited speech she took swipe at those who had removed her name and that of the former president from the Science Laboratory, which she said had obtained by agitating for it.
(Chandrasiri Gunasekera)