---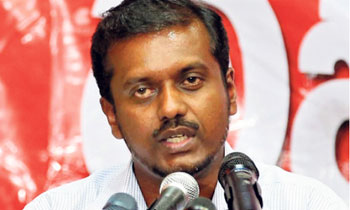 The Joint Federation of Health Professionals (JFHP) today warned the government that they would resort to an island wide trade union action with the participation of 21 health professions, if the Government failed to fix the salary anomalies in the State service within two weeks.
It said due to an arbitrary instruction given by the Prime Minister's Office to increase only the salaries of the Railway Department during its recent trade union action, the entire State salary structure has collapsed.
Addressing a press conference in Colombo, JFHP Co-Convener Saman Rathnapriya said the entire salary scale of Government workers' has been categorize to 36 sectors from the apprentice to the Attorney General by the Salaries Commission's 03/2016 circular and a slight change in a single sector, will affect the other sectors.
He said, following the decision, Railway Department's MN3, MN4 categories of Engine Drivers, Guards, Station Masters, Controllers had been ordered to change to MP1 and MP2 category exceeding the salary scales of health professionals who were above the railway employees' salaries. (Thilanka Kanakarathna)