---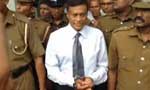 A Supreme Court Bench comprising Chief Justice Mohan Pieris and Justices Eva Wanasundera, Sarath De Abrew, Sisira De Abrew and Buwaneka Aluvihare today fixed October 21 to hear the appeals submitted by the accused remanded in connection with the killing of Mohamed Shiyam.
The accused -- Vaas Gunawardena, Krishantha Koralage, Lakmina Bamunusinghe, Priyantha Sanjeewa, Kelum Dassanayake and Ravidu Vaas Gunawardena were indicted by the Attorney General on charges of having killed Bambalapitiya businessman Mohamed Shiyam
They filed their petitions against the Colombo High Court Trial-at-Bar through their instructing attorneys-at-law claiming that the indictment was erroneous.
They had appealed to the Supreme Court to dismiss the Trial-at-Bar saying that the Criminal Procedure Code states that without carrying out a proper investigation, the Attorney General could not file indictments before the High Court and as such the Supreme Court should dismiss the case.
They said they were arrested under the Prevention of Terrorism Act (PTA) and that the investigations were carried out under that Act. The defence attorneys said the AG however, had filed indictments under the Penal Code and this was erroneous and flawed.
The petitioners state that in July 2013 the CID had obtained detention orders and recorded the statements and confessions of the accused under the PTA.
Counsel Anil Silva PC, Sumithra Waidyasekera, Neville Abeyratne with Asitha Wipulanayake and Jaliya Samarasinghe appeared for the petitioners. (T.Farook Thajudeen )