---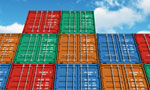 Customs Officials today detained 10 containers, after finding discrepancies in the shipping documents submitted by the exporter, Customs Spokesman Leslie Gamini said.
"The containers are yet to be opened and therefore it is difficult for us to tell what exactly is inside the containers," he said.
Mr. Gamini declined to give more details other than to say that investigations were being carried out.
(PF)