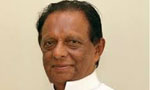 One hundred and eighty seven Sri Lankans living in abroad received their dual citizenship certificates today from the Immigration and Emigration Department as a result of the new government's decision to reintroduce the dual citizenship system.
A ceremony was held at the Department today to issue the first set of certificates online. Public Order Minister John Amaratunga said the department had received about 500 applications requesting for dual citizenship.
"The previous regime suspended the system to issue dual citizenship but it had given 2,000 citizenships to their kith and kin and the cronies through the backdoor. Today, under the guidance of the prime minister, we have reintroduced the system to give an equal opportunity to everyone," he said.
The minister charged that the selective approach of the previous regime had deprived people of their rights, and many intellectuals had left Sri Lanka seeking a haven in other countries.
He said the process of issuing the certificates could be slow as it had only begun and that those who applied for dual citizenship would be closely screened by a committee comprising department officials.
"We don't need drug addicts or smugglers like the one who was executed in Indonesia. In the past, there were incidents where containers of drugs were released on the orders of high officials. In fact, I strongly recommend that the president introduce the electric chair to eradicate the drug menace from the island. The country only needs valuable and helpful people to come in," he said.
He said no longer would the applicants have to give bribes (santhosam) to the Department employees to get their work done and that the employees were working hard and depending only on their salaries.
(Lahiru Pothmulla and Sanath Desmond)