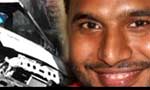 The Criminal Investigation Department probing into the controversial death of Havelock's rugby star Wasim Thajudeen would seek expert assistance to retrieve the footages captured on CCTV camera system that would reveal a substantial amount of evidence on the suspected murder.
Police Spokesman ASP Ruwan Gunasekara said detectives would decide on sending the footages to the Department of Computer Science and Engineering of the University of Moratuwa for its expert analysis to retrieve certain visuals.
He said that according to investigators, the visuals were not very clear in its quality and assistance of the Police IT Division would also be considered in collecting evidence out of that.
However, according to CID sources the movements of the victim's car that was believed to have crashed leading to the suspicious death of the ruggerite had reportedly been captured in some of these footages.
CID sleuths attached to the Homicide Unit had found it challenging to retrieve the CCTV evidence as a considerable amount of visuals were said to have been deleted voluntarily or involuntarily, when the case was closed couple of years ago.
Usually the Police CCTV cameras in place at crucial locations in the Greater Colombo City limits are not preserved more than two years.
Colombo Chief Magistrate hearing the Thajudeen's Case is to declare the actual cause of his death by tomorrow (December 10) when the case will be taken up again.
The five page JMO report to the suspicious death had been handed over to the courts last week.
(Kurulu Koojana Kariyakarawana)