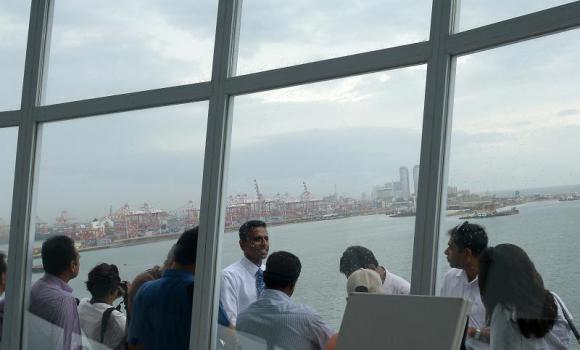 Sri Lanka has signed a deal with a Chinese company to build a $1.4 billion city complex on reclaimed land near the harbour of the capital Colombo, an official said Wednesday.
The state-run Sri Lanka Ports Authority (SLPA) will reclaim 230 hectares (568 acres) next to the new Colombo South port, said SLPA chairman Priyath Bandu Wickrama.
He said the SLPA finalised a deal under which China Communications Construction Company Limited (CCCC) will invest $1.43 billion to build a "Port City" that will change the coastline in the capital.
"We are moving towards the sea to reclaim land and build a mini city," Wickrama said during a visit to the port.
"We have finalised the deal with CCCC and construction will begin by September. We hope to complete the land reclamation within 39 months," he added, without saying when the deal was struck.
He said the SLPA planned a new 22-floor headquarters, hotels, apartments and recreational activities on the reclaimed land. The CCCC will be given 50 hectares (123 acres) of the land on a 99-year lease.
Several international hotels, including Hong Kong-based Shangri La are building hotels in Sri Lanka to cash in on the island's post-war growth after troops crushed Tamil rebels and ended 37 years of ethnic war in May 2009.
Chinese companies have emerged as key infrastructure partners and have already built air and sea ports, highways and railroads in the Indian Ocean island, which is strategically located along East-West trade routes.
The first phase of a $500 million container port next to the main Colombo harbour is due to open next month and bring Sri Lanka on a par with port facilities in Singapore and Dubai, Wickrama said.
China Harbour Engineering will have control over the new Colombo South Harbour for 35 years and it will compete with the existing state-run facilities as well as privately-owned container terminals within the large Colombo port.
Wickrama discounted fears that China was throwing a "string of pearls" or a geographical circle of influence, around the regional superpower India. He said Sri Lankan ports would not be allowed to engage in any military activity.
(AFP)