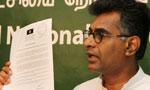 United National Front for Good Governance (UNFGG) General Secretary and Minister Patali Champika Ranawaka said today that former president Mahinda Rajapaksa would be stripped of his civic rights if he was found guilty of misappropriating Tsunami funds.
"Mahinda Rajapaksa will have to face the charges levelled against him with regard to the misappropriating of Tsunami funds and assisting a terrorist organisation. He had presented a Cabinet note instead of a proper Cabinet paper to release funds for the LTTE. Since he had taken measures in his capacity as the then finance minister when asking the Treasury to release the funds to the LTTE, the legal immunity of a president will not be able to protect him," the minister told a news conference.
He said according to Clause No: 157 of the Constitution, aiding and abetting a terrorist organisation could result in a person losing his or her civil rights for seven years. It also includes the from employment in state institutions if they are state employees.
The minister said Mr. Rajapaksa had provided Rs.800 million to the LTTE, through the Reconstruction and Development Agency (RADA) headed by former parliamentarian Tiran Alles and said the police had found records of a part of it being a cash transaction of some Rs.169 million.
He said the funding of the LTTE by Mr. Rajapaksa through bogus companies had continued until the LTTE attacked former Defence Secretary Gotabaya Rajapaksa in 2006.
"Neither Mahinda Rajapaksa nor his brother Basil, who had secret meetings with LTTE front-liner Emil Kanthan, had denied the charges against them of having funded the LTTE," the minister said.
He challenged the former president for an open debate on charges against him and said he was equipped with evidence to prove the charges.
Meanwhile, commenting on the Supreme Court delaying the arrest of former MP Tiran Alles, the minister said the case was blow to the reputation of the Supreme Court.
"The case should not be heard in the Supreme Court. I may be charged of contempt of court for making these remarks but I'm not afraid to tell the truth," he said adding that they would make sure the judges are impartial in future and would probe all cases of corruption and disappearance.
(Lahiru Pothmulla)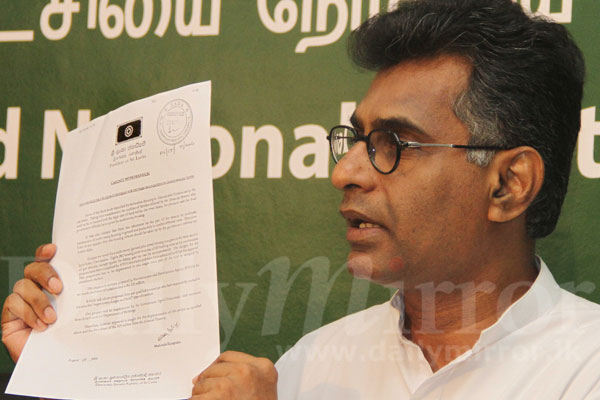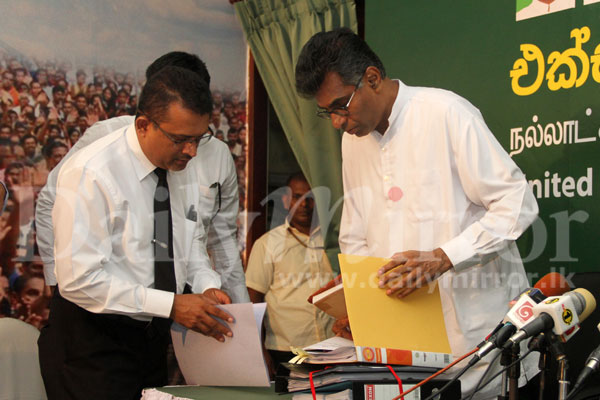 Pix by Pradeep Dilrukshana