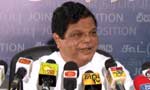 UPFA MP Bandula Gunawardane today criticised the budget proposal to impose charges on cash withdrawals by bank customers. The government through the 2016 budget has proposed to impose charges on cash withdrawals which exceed Rs. 1 million.
Accordingly, a 2 percent of a charge would be acquired by the government when a customer withdraws cash between Rs. 1 million to 10 million.
Those who are withdrawing cash amounts exceeding Rs. 10 million would be liable for a 3 percent of a charge from their funds.
Discouraging cash transportation in line with security considerations was the reason for the proposal, Finance Minister Ravi Karunanayake said in his budget speech.
MP Gunawardane said the proposal was absurd as it was discouraging people to save in banks.
"People can't withdraw their own money without giving a ransom to the government. If someone withdraws Rs. 1 million, they won't be able to get the total amount. They will have to pay Rs. 20,000 to the government. When withdrawing more than Rs. 1 million, a person will have to give Rs. 200,000," he said.
He said this proposal was one of the many budget proposals which had deceived the people.
(Lahiru Pothmulla)